A friend of mine has a new board ASRock B560M-ITX/AC with an intel core i5-10500T processor and he can not install any major linux distro except for Ubuntu nightly build. I am wondering if somebody here can help to figure out what is going wrong.
He tried several distros (e.g. debian, Fedora, garuda, Manjaro, Solus, EndeavourOS April release). The result is always the same: The boot menu shows up fine, the system starts to boot, but when the login screen or desktop should appear he just sees a black screen and the monitor says "no signal".
Only Ubuntu nightly build is succeeding to boot into the budgie desktop environment.
Here are two screenshots from Ubuntu. No text, only photos, sorry.
ubuntu kernel commandline does not contain anything meaningful:


Here is output of "inxi -Fzx":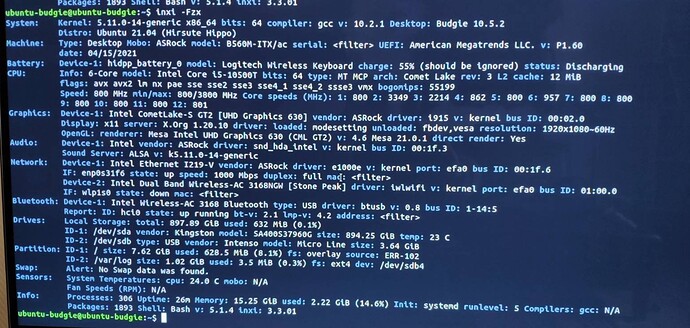 The ubuntu kernel is also 5.11.14. And it uses Xorg 1.20.10.
And idea why ubuntu nightly build works and all the others not?