Greetings fellow humans, human fellas.
It seemed like I figured everything out with touchpad gestures, but I'm having a bit of trouble setting them up using lib-input-gestures and the GTK gestures application. All of the dependencies are installed and I have added my user to the input user group.
Using ydotool, I have created my gestures as seen in the photo below. Ydotool is a fork of xdotool. It has the same command syntax as xdotool but works on both xorg and Wayland.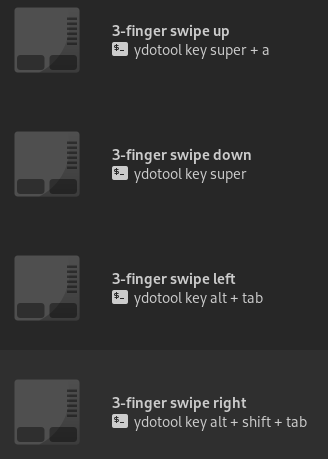 With these configurations, I and experiencing two issues.
Gestures do not start on startup. I have to open the gestures app in order for all of the gestures to start working. Is there a way to add a startup script?
The time it takes for the gestures to register is pretty sluggish. Is it possible to speed this up?
Any help I can get with these issues would be helpful. Honestly, it feels like I'm asking questions here everyday, haha.
Cheers, and happy holidays.
P.S. When using xdotool and ydotool, make sure to not have spaces between multiple keystrokes.
AKA.
ydotool key super+a
Works while
ydotool key super + a
will not work.
Learned that the hard way.