Have a nice day, everyone!
Before a yay system update caused my catastrophic boot-failure problem there, I made a copy of the now-failing LUKS ext4 EOS partition from a SATA SSD to a new NVMe SSD via partclone application.
I did that in hopes of having a fully reliable backup of that essential EOS system. But somehow I seem to have misused the partclone application: It only cloned/copyed the original EOS (71 GB used, 46 GB free) by stretching it over the whole 2 TB NVMe drive.
I tried to shrink the replicated partition, but different partition managers under different Linux distributions failed to solve the problem.
That means there was and is no space left for the corresponding esp boot partition. If I had cloned the latter, perhaps I could have solved the aforementioned catastrophe myself.
3 screenshots following:
=== A) original LUKS-encrypted ext4 EOS partition on SATA SSD: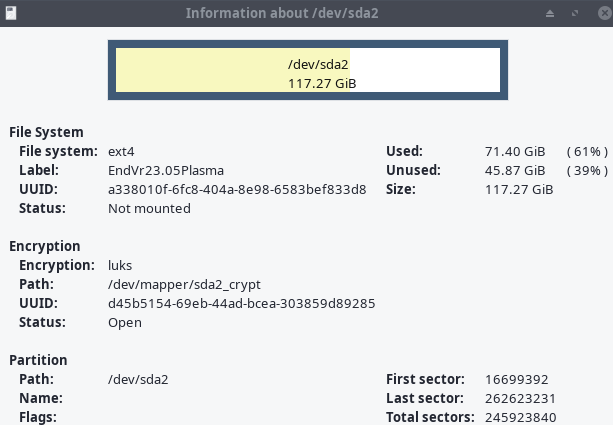 === B) EOS partition copy spanning whole NVMe drive: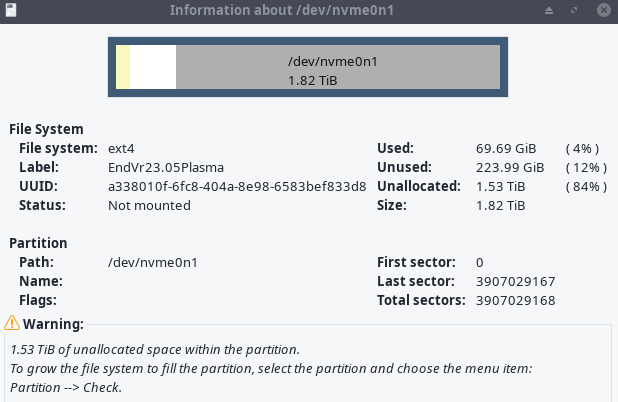 === C) NVMe-replicated partition impossible to shrink (in this case, while trying to create a new partition):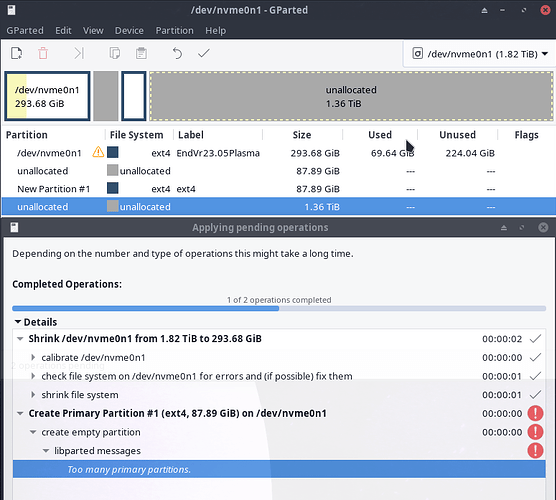 The error/warning/hinting message after trying to only shrink it is different, but it fails, too.
Would someone please help me in both shrinking the replicated EOS partition and make it bootable? Else, it will remain a quite useless copy on expensive new hardware.
Sincerely
Tako