Greetings lovely community,
I run Gnome DE, and you might think that therefore I would used Gnome-Terminal, but I actually quite prefer Tilix as my terminal of choice. I do have both installed as well as Xterm (though I don't think I ever use this one), and sometimes I do use the Welcome App from time to time to run an update and to check the pacdiff & meld. However, whenever I run these, the Welcome App will always open Gnome-Terminal, when I'd rather it'd open Tilix. I've looked through the EndeavourOS wiki here:
https://discovery.endeavouros.com/endeavouros-tools/welcome/2021/03/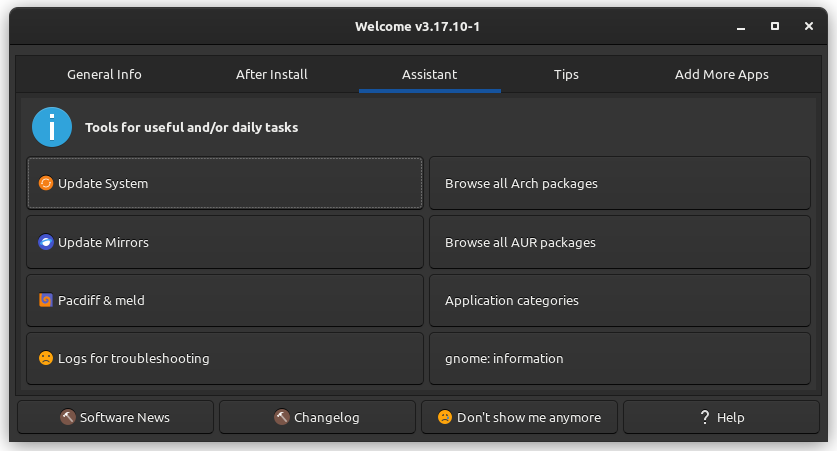 It mentions changing EOS_YAD_TERMINAL but for me it isn't quite clear how exactly I should be doing this. Am I supposed to edit a vaule in :
/usr/share/endeavouros/scripts/eos-script-lib-yad
or in :
/etc/eos-script-lib-yad.conf
And what all exactly do I need to change? I'm a little bit confused myself at the moment exactly what to change. All I'd like to do is make the Welcome App open Tilix first instead of Gnome-Terminal which is currently it's default. If this is possible, please do let me know what I need to make it happen. Thanks for any help, it's always much appreciated!
Edit: Here's my current configuration of the two outputs I mentioned above if that's helpful:
[scott@endeavourOS ~]$ sudo nano /etc/eos-script-lib-yad.conf

  GNU nano 6.0                                                                     /etc/eos-script-lib-yad.conf                                                                                
### Configuration file for eos-script-lib-yad.
###
### To enable any setting below, simply remove the starting '#' character
### on the appropriate line.

## Terminal program to be used by certain EndeavourOS packages
## like 'welcome' and 'eos-update-notifier'.
## Many popular terminals are supported. See a list of terminals known to be compatible
## in file /usr/share/endeavouros/scripts/eos-script-lib-yad, function eos_yad_terminal().
## If you have any of the listed terminals installed, EOS_YAD_TERMINAL need not be enabled.
## Then the programs will use the first available program in the list.
## Note: other than the listed terminals may or may not be compatible.
#
# EOS_YAD_TERMINAL="terminator"

## EOS_ROOTER configures the command for acquiring elevated privileges
## when running commands in terminal.
## Supported values:
##   "su"
##   "sudo"
##   "pkexec"
##   "su-c_wrapper"
## Still supported values, but deprecated and will be removed in the future:
##   "su -c"
##   "pkexec bash -c"
##   "sudo bash -c"
##   "/usr/bin/su -c"
##   "/usr/bin/pkexec bash -c"
##   "/usr/bin/sudo bash -c"
#
export EOS_ROOTER="su"

## EOS_WELCOME_CONNECTION_WARNING specifies whether you want to allow the warning window
## in the Welcome app about not being connected to the internet.
## Supported values are: "yes" or "no".
#
EOS_WELCOME_CONNECTION_WARNING=yes

## EOS_CONNECTION_CHECKER selects the way how an internet connection availability is checked.
## Supported values are: "ping" or "curl".
## Note: "ping" may have problems if you are behind a proxy, thus "curl" is the default.
#
EOS_CONNECTION_CHECKER="curl"

## EOS_WIFIDEV_CHECK specifies if we want to make some ad hoc checks that we have the right
## wifi card drivers installed. The checks are made in the Welcome app when using
## the button "Detect system issues".
## Supported values are "yes" or "no".
                                                                                      [ Read 131 lines ]
^G Help          ^O Write Out     ^W Where Is      ^K Cut           ^T Execute       ^C Location      M-U Undo         M-A Set Mark     M-] To Bracket   M-Q Previous     ^B Back
^X Exit          ^R Read File     ^\ Replace       ^U Paste         ^J Justify       ^/ Go To Line    M-E Redo         M-6 Copy         ^Q Where Was     M-W Next         ^F Forward

[scott@endeavourOS ~]$ sudo nano /usr/share/endeavouros/scripts/eos-script-lib-yad

  GNU nano 6.0                                                           /usr/share/endeavouros/scripts/eos-script-lib-yad                                                                     
#!/bin/bash
#
# EndeavourOS bash scripts "library". Functions using 'yad'.
#
# - ALL FUNCTIONS HERE START WITH "eos_yad_" AND ARE EXPORTED.
# - NO GLOBAL VARIABLES ARE USED NOR PROVIDED.
#
# User MUST declare the following exports in the *using* bash code:
#
# export -f eos_yad
# export -f eos_yad_terminal
# export -f eos_yad_check_internet_connection
# export -f eos_yad_GetArgVal
# export -f eos_yad_RunCmdTermBash
# export -f eos_yad_problem
# export -f eos_yad_DIE
# export -f eos_yad_WARN
#
# export -f eos_yad__detectDE
# export -f eos_yad_GetDesktopName
# export -f eos_GetArch
# export -f eos_select_browser
# export -f eos_yad_nothing_todo
#
# The two last functions above do not use yad.

source /etc/eos-script-lib-yad.conf      # for EOS_ROOTER and other configs

export EOS_WICON=/usr/share/endeavouros/EndeavourOS-icon.png
export EOS_YAD_STARTER_CMD="/usr/bin/yad --window-icon=$EOS_WICON"

eos_yad() {
    GDK_BACKEND=x11 $EOS_YAD_STARTER_CMD "$@" | grep -v "^WINDOW DECORATIONS RELOADED$"
    return ${PIPESTATUS[0]}
}
#export -f eos_yad

translations_dir=/usr/share/endeavouros/scripts  # needed in translations.bash
source $translations_dir/translations.bash || {
    echo "$translations_dir/translations.bash not found!" >&2
    exit 1
}

eos_GetArch() {
    local arch="$(/usr/bin/uname -m)"
    case "$arch" in
        armv7* | aarch64) arch=armv7h ;;
    esac
                                                                                      [ Read 615 lines ]
^G Help          ^O Write Out     ^W Where Is      ^K Cut           ^T Execute       ^C Location      M-U Undo         M-A Set Mark     M-] To Bracket   M-Q Previous     ^B Back
^X Exit          ^R Read File     ^\ Replace       ^U Paste         ^J Justify       ^/ Go To Line    M-E Redo         M-6 Copy         ^Q Where Was     M-W Next         ^F Forward