So this problem has been bugging me for a few months now. I purchased my laptop last year. Everything was fine but some time in Feb 2021, Chrome started auto adjusting microphone volume. Specifically speaking, I (have to) use Google Meet and MS Teams. The problem happens on both websites.
The problem does not happen when I am not in a meeting. When I am in a meeting, Chrome auto adjusts mic volume, and increases it when I am not speaking anything. So when I actually speak, my voice sounds too loud to others.
I started attending meets on my old PC because for some reason, my PC does not suffer from this issue. But tomorrow I'm supposed to attend a meet as an instructor and the demonstration requires me to use my laptop. (PC is too low spec)
So I really need some fix.
Someone else also reported same issue here

The report is about Hangout, but I have exact problem with Meet. Unfortunately, their discussion does not reach any conclusion.


https://bugs.chromium.org/p/chromium/issues/detail?id=435112
In case it helps, the problem does not exist on Discord.
Hardware - My laptop has a single 3.5mm port for both input and output audio. I plug in a generic mobile earphone in them. Issue also exists if I use laptop in built mic. The increase in volume that I talked about was monitered using pavucontrol.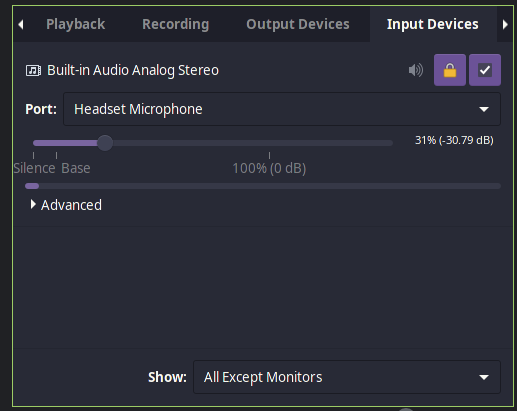 I am using pulseaudio not pipewire. Also, output volume does not change.
output of inxi -Fxxxa
System:    Host: wired Kernel: 5.10.37-1-lts x86_64 bits: 64 compiler: gcc v: 11.1.0 
           parameters: BOOT_IMAGE=/boot/vmlinuz-linux-lts root=UUID=f1f86514-4df2-422c-8a7a-1ad2b16e1013 rw quiet loglevel=3 
           nowatchdog 
           Desktop: i3 4.19.1 info: polybar vt: 7 dm: LightDM 1.30.0 Distro: EndeavourOS base: Arch Linux 
Machine:   Type: Laptop System: Dell product: Inspiron 3493 v: N/A serial: <superuser required> Chassis: type: 10 
           serial: <superuser required> 
           Mobo: Dell model: 0F9NFW v: A00 serial: <superuser required> UEFI: Dell v: 1.13.0 date: 11/13/2020 
Battery:   ID-1: BAT0 charge: 42.0 Wh (100.0%) condition: 42.0/42.0 Wh (100.0%) volts: 12.6 min: 11.4 
           model: SWD-ATL3.618 DELL WJPC406 type: Li-ion serial: 27829 status: Full 
CPU:       Info: Quad Core model: Intel Core i5-1035G1 bits: 64 type: MT MCP arch: Ice Lake family: 6 model-id: 7E (126) 
           stepping: 5 microcode: A0 cache: L2: 6 MiB 
           flags: avx avx2 lm nx pae sse sse2 sse3 sse4_1 sse4_2 ssse3 vmx bogomips: 19046 
           Speed: 1585 MHz min/max: 400/3600 MHz Core speeds (MHz): 1: 1585 2: 1542 3: 1748 4: 1947 5: 1560 6: 1633 7: 1580 
           8: 2560 
           Vulnerabilities: Type: itlb_multihit status: KVM: VMX disabled 
           Type: l1tf status: Not affected 
           Type: mds status: Not affected 
           Type: meltdown status: Not affected 
           Type: spec_store_bypass mitigation: Speculative Store Bypass disabled via prctl and seccomp 
           Type: spectre_v1 mitigation: usercopy/swapgs barriers and __user pointer sanitization 
           Type: spectre_v2 mitigation: Enhanced IBRS, IBPB: conditional, RSB filling 
           Type: srbds status: Not affected 
           Type: tsx_async_abort status: Not affected 
Graphics:  Device-1: Intel Iris Plus Graphics G1 vendor: Dell driver: i915 v: kernel bus-ID: 00:02.0 chip-ID: 8086:8a56 
           class-ID: 0300 
           Device-2: Realtek Integrated_Webcam_HD type: USB driver: uvcvideo bus-ID: 1-6:2 chip-ID: 0bda:5675 class-ID: 0e02 
           serial: 200901010001 
           Display: x11 server: X.org 1.20.11 driver: loaded: intel unloaded: fbdev,modesetting,vesa 
           resolution: <missing: xdpyinfo> 
           Message: Unable to show advanced data. Required tool glxinfo missing. 
Audio:     Device-1: Intel Smart Sound Audio vendor: Dell driver: snd_hda_intel v: kernel alternate: snd_sof_pci 
           bus-ID: 00:1f.3 chip-ID: 8086:34c8 class-ID: 0403 
           Sound Server-1: ALSA v: k5.10.37-1-lts running: yes 
           Sound Server-2: JACK v: 0.125.0 running: no 
           Sound Server-3: PulseAudio v: 14.2 running: yes 
Network:   Device-1: Realtek RTL810xE PCI Express Fast Ethernet vendor: Dell driver: N/A modules: r8169 port: 3000 
           bus-ID: 01:00.0 chip-ID: 10ec:8136 class-ID: 0200 
           Device-2: Qualcomm Atheros QCA9377 802.11ac Wireless Network Adapter vendor: Dell driver: ath10k_pci v: kernel 
           port: 3000 bus-ID: 02:00.0 chip-ID: 168c:0042 class-ID: 0280 
           IF: wlan0 state: up mac: 28:cd:c4:74:a1:b3 
Drives:    Local Storage: total: 1.14 TiB used: 228.82 GiB (19.6%) 
           SMART Message: Unable to run smartctl. Root privileges required. 
           ID-1: /dev/nvme0n1 maj-min: 259:0 model: CL1-3D256-Q11 NVMe SSSTC 256GB size: 238.47 GiB block-size: 
           physical: 512 B logical: 512 B speed: 31.6 Gb/s lanes: 4 rotation: SSD serial: TW0TN2CC9DH0006B084N rev: 22301114 
           temp: 30.9 C scheme: GPT 
           ID-2: /dev/sda maj-min: 8:0 vendor: Western Digital model: WD10SPZX-75Z10T3 size: 931.51 GiB block-size: 
           physical: 4096 B logical: 512 B speed: 6.0 Gb/s rotation: 5400 rpm serial: WX22A60FFN2D rev: 4514 scheme: GPT 
Partition: ID-1: / raw-size: 237.97 GiB size: 233.24 GiB (98.01%) used: 22.88 GiB (9.8%) fs: ext4 dev: /dev/nvme0n1p2 
           maj-min: 259:2 
           ID-2: /boot/efi raw-size: 512 MiB size: 511 MiB (99.80%) used: 12.4 MiB (2.4%) fs: vfat dev: /dev/nvme0n1p1 
           maj-min: 259:1 
Swap:      Alert: No Swap data was found. 
Sensors:   System Temperatures: cpu: 62.0 C mobo: N/A 
           Fan Speeds (RPM): cpu: 0 
Info:      Processes: 207 Uptime: 18m wakeups: 6 Memory: 7.54 GiB used: 2.07 GiB (27.5%) Init: systemd v: 248 tool: systemctl 
           Compilers: gcc: 11.1.0 clang: 11.1.0 Packages: pacman: 1206 lib: 260 Shell: Zsh v: 5.8 running-in: alacritty 
           inxi: 3.3.03 


There seems to be a plugin that claims to fix. I'll install it, but don't know if this will work or not.
If anyone else faced this issue, or know a fix. please share

PS. Another issue is that I don't have any way of verifying if a certain proposed solution works or not. The volume adjustment happens randomly.