Hey everyone,
I'm new here and loving it, loving the distro and everything!
It's just a quick one… I believe I already know the answer from poking around in the theme files.
I'm usually use Gnome for it's great out-of-box experience with HiDPI, however the XFCE default version got me, you have done an amazing job with it!
The only thing I don't like about it is the small window manager bar, where the minimize, maximize, close buttons are (See pictures).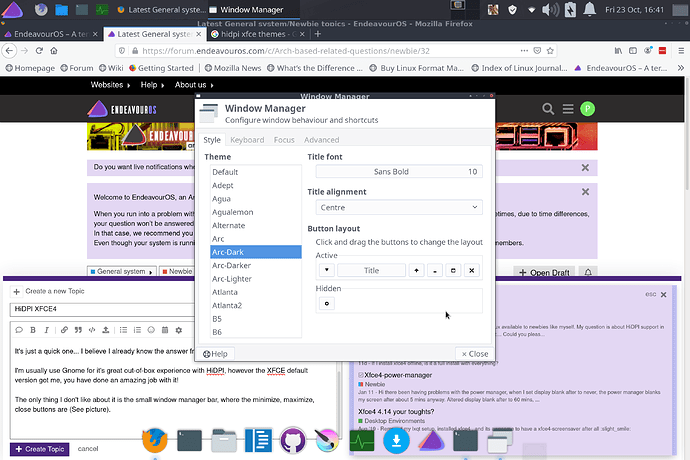 This is Arc Dark theme, as you can see the bar is way too small, let alone clicking the cross…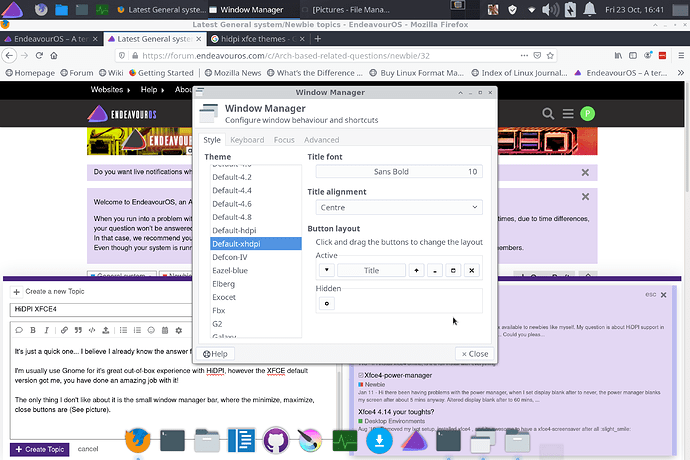 This is the default-xhdpi theme, and this is better but preferably would still like it to be bigger, or at least the buttons.
I've looked through the theme files to see what exactly makes these themes different, and it looks like the image sizes. The "close.png" (not original file name) in Arc Dark, is 28x28px, whereas the "close.png" file in default-xhdpi is something like 43x58px (apart from it also being a different file type which I don't believe affects it, unless it's because it's an SVG-type thing as mentioned in the README).
So correct me if I'm wrong, the one way to make the buttons bigger on Arc Dark (other than changing the resolution, which I've done and there's barely a difference), is to either use another HDPI theme which I haven't found many… or create bigger image dimensions for that theme, which should increase the buttons.
Have I understood this right?
Thanks