Today, when I chose "Update System" through the Welcome GUI, I saw this:
warning: insufficient columns available for table display
Does this mean that I should widen the terminal window?
Further on in the update process, I got some instances of
error: failed retrieving file ...
and also this:
warning: too many errors ... skipping for the remainder of this transaction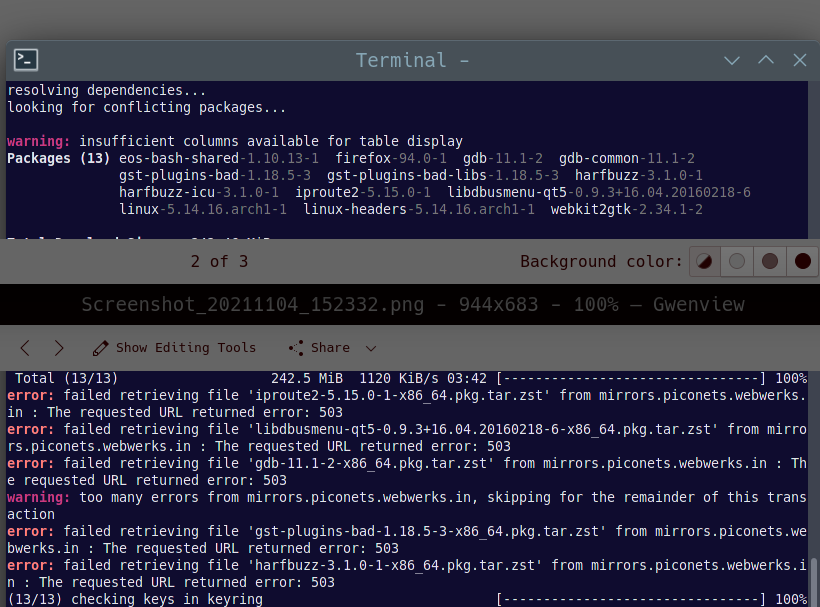 Despite all this, looking at /var/log/pacman.log indicates that all packages installed successfully. How was the update successful? Did pacman silently/seamlessly use one of the other mirrors?
For reference this is my current etc/pacman.d/mirrorlist:
################################################################################
################# Arch Linux mirrorlist generated by Reflector #################
################################################################################
# With:       reflector --verbose -c IN --protocol https --protocol http --sort rate --latest 18
# When:       2021-11-02 10:23:09 UTC
# From:       https://archlinux.org/mirrors/status/json/
# Retrieved:  2021-11-02 10:22:16 UTC
# Last Check: 2021-11-02 10:16:41 UTC

## India
Server = http://mirrors.piconets.webwerks.in/archlinux-mirror/$repo/os/$arch

## India
Server = http://mirror.cse.iitk.ac.in/archlinux/$repo/os/$arch

## India
Server = https://mirrors.piconets.webwerks.in/archlinux-mirror/$repo/os/$arch

## Worldwide
Server = http://mirror.rackspace.com/archlinux/$repo/os/$arch
Server = https://mirror.rackspace.com/archlinux/$repo/os/$arch


But