Is there a good sound enhancer that is preconfigured for GNU/Linux?
Hello!


I personally use PuelseEffects, I had to configure the sound to my liking, it took me a while but it was worth it.
I use it on a PC with a "Creative Blaster X-Fi Titanium Fatal1ty Champions Series" sound card and it sounds great. Just be careful, I used it with a cheap laptop too for a few months and the configuration I was using damaged my 3.5mm jack socket, I was using a slight configuration that made the sound clearer and had a little more bass than it normally did and that caused the socket to produce a permanent annoying noise in super high frequency apparently, even when PulseEffects is deactivated. So I guess I would recommend it only if you have a powerful integrated sound chip or if you have a sound card. I haven't had any problems with my sound card after I started using PulseEffects, it sounds better than it does on windows (in Windows I have and soft noise sometimes) and I haven't noticed anything going wrong.
Yet I would need to add "USE AT YOUR OWN RISK!"…
Hope this helps!

Note: if you want to try it, I can give you some of the configurations I got, they are pretty stable on my system. Let me know if you want them.
On one of my computers Dell already preinstalled one of their sound enhancer on Windows and it was already pre-configured. I would be worried about configuring a sound enhancer by myself simply cause I have no idea how this stuff works. I hope there is something that is made for Dell laptops so I don't end up screwing something up.
You could try pulseaudio-equalizer. That one comes with a lot of predefined presets. Not especially for your computer, but for different music genres, bass, treble and so on.
Can this damage my sound card?
I don't think so. I never heard or read something similar. It's the same kind of equalizer you use with your audio player on your smartphone. I use it for quite some time on different computers and never had any problems.
I see, but then how come as @dante_igashu has mentioned that when he used a different software called PuelseEffects, how come that damaged his sound board or something, but the software that you mentioned (pulseaudio) can't damage the sound board? I just want to understand a bit better?
I just had a quick look at that software. The only explanation I have is that he maybe changed some settings to a dangerous degree. The first two "dangerous" features I saw was the limiter and the compressor. I can imagine, that this can have negative effects on your sound card if the settings are too high. You can not change that stuff in the mentioned equalizer. If my theory is correct, it's not a problem of the effects app. This could also happen in e.g. audacity if you're not careful and you don't know what you're doing.
Thanks mate for your help I will install it

You're welcome. I hope it will meet your needs.
@Trekkie00 @unix_lover



Just to clarify what happened in my case, the sound chip didn't get damaged, the 3.5mm jack socket did, the little square of hardware where you plug your headphones cable, not the chip that processes the audio and I mentioned it was a cheap laptop, I paid $250 for it, so I got what I paid for, I just was trying to avoid someone having the same issue in case they had a crappy laptop too. Hope no one else gets worried about using the software
.
I just used the bass enhancer, but I set the "Floor" to a really low frequency and that made my headphones sound great, yet it seems that that's maybe what damaged the socket, I also changed used the "Crystalizer" and the equalizer and I was able to rise the volume to full power and it sounded great, which isn't much and I normally used just half the volume, so I don't really know what part of my configuration damaged the socket, but it got damaged after I started using that software in my cheap laptop, like two weeks after I started using it and I use it a lot.
I guess pulseaudio-equalizer is a good option when you don't want to personalize the sound
.
By the way, PulseEffects has like three predefined presets, but you need to download the files from their git page if and place them in the right folder (not hard at all a they had instructions last time I checked), though for my own taste, they are too insipid.
Oh I see lol

did you repair it by any chance?
Even though I have a more expensive laptop and that came with a sound enhancer and enabled by default I was still worried about using such a software.
Yes its the right option for me since I have no idea how to customise audio and how to fine tune it to my own liking. I just prefer something preconfigured and to a safe level where no hardware can get damaged.
THanks mate I had no idea, but what are the differences between the three predefined presets?
Hello!


No, I haven't repaired it, I am using my external monitor's output instead at the moment, but I guess I will at some point
.
Well the presets have this names:
Bass Boosted
Bass Enhancing + Perfect EQ
Boosted
I guess the first two get explained just by reading their names, and the third I don't know, I remember using them once, but I didn't like any of them and then I created my own presets
…
.
Note: I just checked and they have five now, the other two are:
Perfect EQ
Razer Surround
Yo can read more about them here…
Oh

have you tried using the software on your external monitor by any chance?
I see.
Thanks mate for your help =D
Hmm strange, so I installed it but which application is it?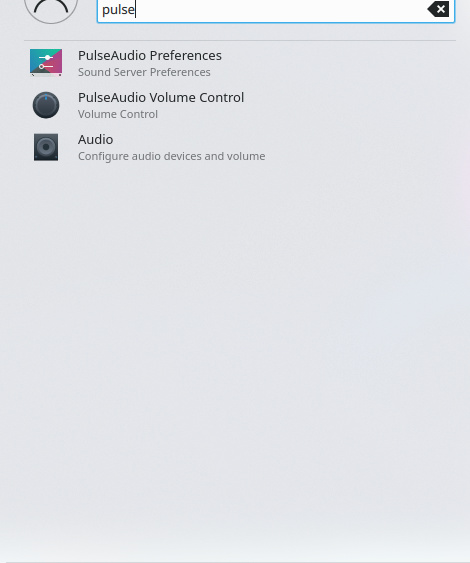 This is what I got after a search. Is it the 2nd one?
Cause like I can't seem to find the application that allows me to add the scripts or whatever to enhance the audio.
It can be found in category Multimedia and is named PulseAudio Equalizer.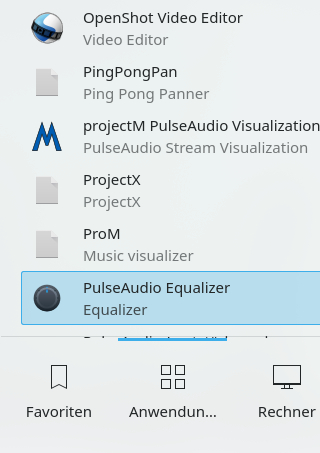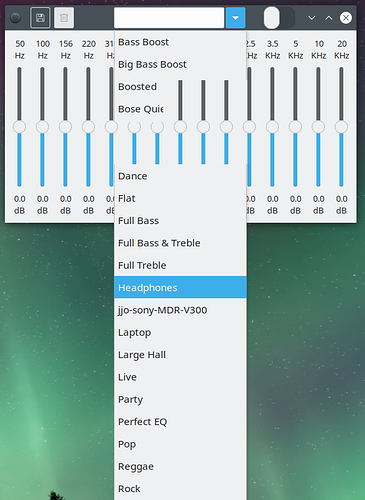 The first screenshot shows the menu (KDE).
The second screenshot shows the gui with part of the presets.
Maybe you first have to logout and login again.
That is strange I am not seeing this option at all. All I see is this: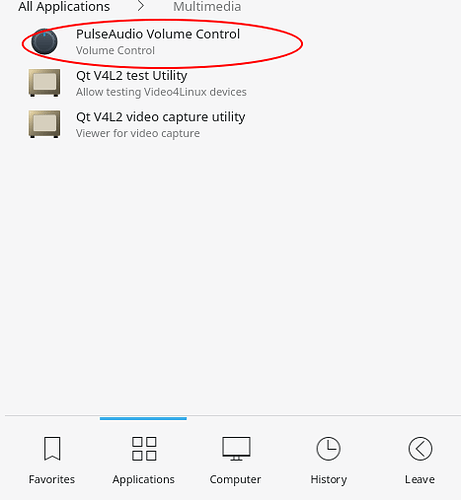 And I am checking this from multimedia.
That application that I was showing you does not have these options as you show. I am not too sure why i can't find PulseAudio Equalizer?
I installed it via pacman sudo pacman -S pulseaudio-equalizer.
I have rebooted the PC many times, I have changed to LTS kernel as well, still that option is not showing up?
Try to install pulseaudio-equalizer-ladspa in addition and have a look, if it works after that.
That seems to have fixed it, what is this pulseaudio-equalizer-ladspa exactly though?
It's just a 15 band equalizer for pulseaudio.
LADSPA is an acronym for Linux Audio Developer's Simple Plugin API . It is an application programming interface (API) standard for handling audio filters and audio signal processing effects, licensed under the GNU Lesser General Public License. It was originally designed for Linux through consensus on the Linux Audio Developers Mailing List, but works on a variety of other platforms. It is used in many free audio software projects and there is a wide range of LADSPA plug-ins available.
Sorry that I gave you wrong information in the first step. Because I was using openSUSE for along time I have to get used to packages and package names in EndeavourOS.