Hi, just look at distrowatch.com home and see EnOS at second place on ranking window six months hit, so cool guys!
I don't the point of distrowatch at all. Most of the other distros in top 10 have way more users than us.
yes i think that the mods from other distros click click on EndeavourOS to push all the new users searching for Distro first at EndeavourOS… throw them in the cold water so they are calmed down a bit before switching to an easier distro after realizing … uhh arch is very cold waters…
Yeah I don't get that site at all. Why has a relatively unpopular distro been sitting at #1 for several years? Why is Arch Linux #62??? And why does the ranking rarely ever change, if it's "hits per day" as it says then surely it should fluctuate a lot more?
I think bots click on links there. MX? Really?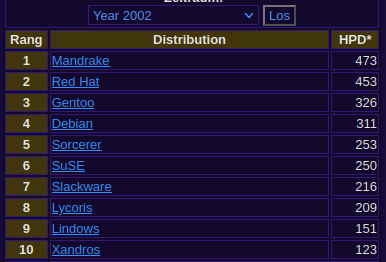 those statistics are a bit more realistic, we are listed with name and not just "Others" since some months now:
the trends are also quite interesting:
Wow guys

distrowatch at this point look pretty epic fail, my mind is dazed and confused


One of my favorite site since 2000 years is a fake OH NOOOO


@discobot quote
Through pride we are ever deceiving ourselves. But deep down below the surface of the average conscience a still, small voice says to us, Something is out of tune. — Carl Jung
Interesting to see the trend of Ubuntu (and Ubuntu based) falling and Fedora rising.
Yep, also Fedora is maniacally curate on every singles details. I like Fedora unlucky the packages isn't flexible as Arch do it…
EndeavourOS has been number two on Distrowatch for quite some time now, it's not that big of a deal.
I think being an EndeavorOS user is primarily an emotional issue, so it's not primarily the number of users that matters.
Just thinking, what if all the EndeavourOS users share www.endeavouros.com to their friends and relatives, and ask them to visit the site on start of the day religiously for 6 months…
and when we all do that? what will we do with this? printing out a certificate for successfully manipulating a click counter?
I saw some days ago that alone on the GitHub ISO repo (one of 15 Mirrors) had over 1 Million Downloads counted: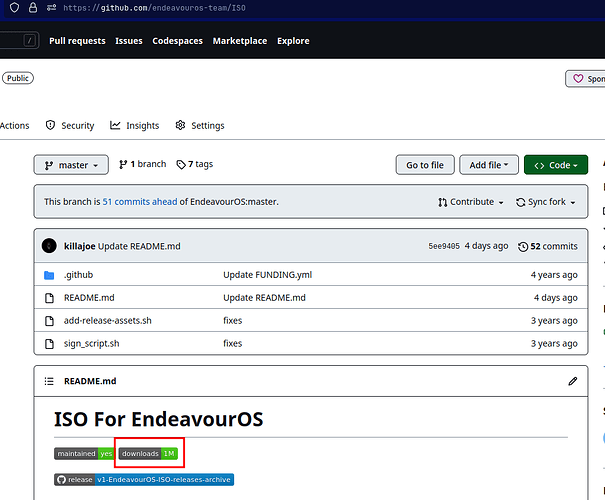 That's amazing !
And the Community is amazing too the number does not matter.
What matters is that the Distro seems very useful, and the Community is a place like home for a number of people from all over the planet.



That`s a beautiful thing.

This number of downloads is already quite telling.