A recent update to Plasma 5.19.5 caused two new options to show up in the Leave menu of the Application Launcher: "Save Session" and "Hibernate".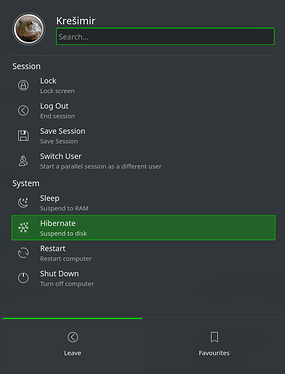 I have previously disabled hibernation (since this is a desktop computer) by adding
AllowHibernation=no
AllowHybridSleep=no
AllowSuspendThenHibernate=no

to /etc/systemd/sleep.conf
However, the latest Plasma update does not seem to respect this setting. The "Hibernate" option is still in the menu, however, it does nothing (because hibernation is disabled). The "Save Session" option also seems to do nothing, apart from cluttering the menu.
After searching for about an hour in the System Settings, I couldn't find the option to remove "Hibernate" and "Save Session" from the menu. It's probably somewhere there, staring at me, but I just can't find it. So if anyone knows how to disable it, please let me know.