Hello, mates.
---
I'm trying to install the chrome-gnome-shell but the output is:
error: target not found: chrome-gnome-shell.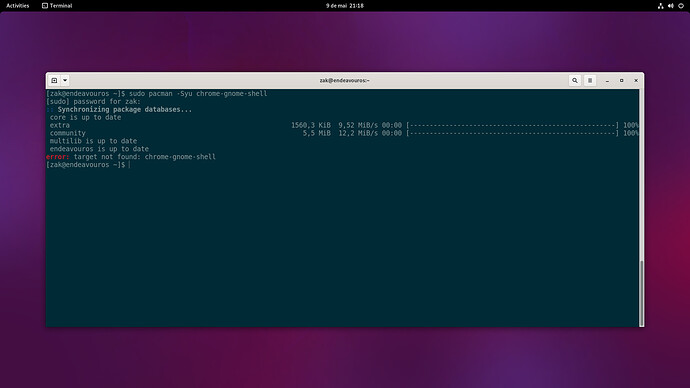 ---
Someone knows something?
yay chrome-gnome-shell
… it's in the AUR
Thanks, mate, for answering, but since when we gotta to install it from AUR?
I ask cuz I use to install it by using pacman. Furthermore, the Gnome Wiki has the following:
https://wiki.gnome.org/Projects/GnomeShellIntegrationForChrome/Installation
---
I don't remember having to install it from AUR. But you're right too, cuz the package is in aur.archlinux.org
Chrome-gnome-shell was dropped from the regular repos in both Archlinux and Archlinux Arm about 3 days ago.
Pudge
EDIT:
It was also dropped from netinstall.yaml so it will not be installed on EndeavourOS by default anymore.
Oooooooooooooh Now I see.
Thank you very much, boys.
---
Update: Great Explanation, mate!
It was dropped as part of "Spring cleanup '21" … orphaned packages in extra were moved to AUR.
So it seems as though arch and therefore arch distros are dropping support for gnome shell extension installation from extensions.gnome.org unless you install an AUR package? Is arch trying to force "vanilla gnome"? I was quite excited when arch was so quick to have gnome 40 in the repos. Now I am a bit less excited…
I don't think this is about Arch having any opinion on vanilla gnome vs extensions and/or e.g.o … I think it's simply a case of having a package that was orphaned (ie. no longer had anyone step up to maintain the package) so the orphaned package was moved out of the extras repo and put in AUR
This topic was automatically closed 2 days after the last reply. New replies are no longer allowed.