You might be right.
Edit: I am thinking something else. So the OP could try some variations.
I add nomodeset and set i915.modeset to 0 not stuck at triggerring uevents anymore! but I get this error now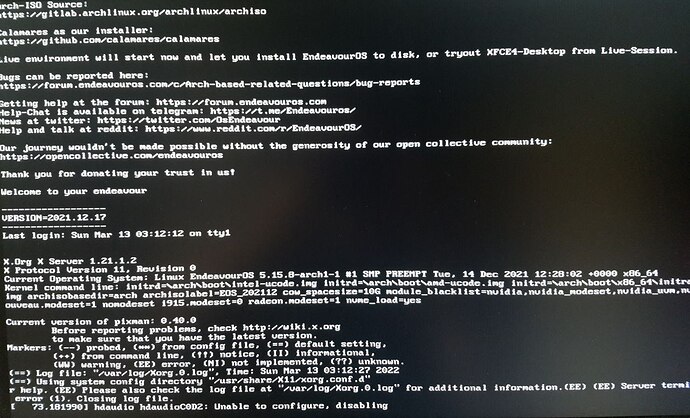 now install it on my older laptop it boot and run without any problems I think this issue is about forb newer hardwares and cpu but I install manjaro and ubuntu on my newer pc and had no problem, So the problem can be endeavouros themselves
You could try to remove nomodeset and try only i915.modeset=0
These newer Intel processors have the Iris graphics chip which cause a lot of issues. That's what it looks like to me.
Edit: Try as @EOS suggests above.
Edit@: Yes you definitely can't have nomodeset
only change i915.modeset to 0 and get xorg xserver error The same error I sent in the screenshot four posts above
even in other distros that I installed without any problem I had gpu hardware acceleration problem like vlc not using gpu for video decoding and get higher cpu usage
Did you remove nomodeset?
yes there was no nomodeset by default but I didn't add it again and only change i915.modeset=1 to 0
I found the solution by chance, removed nouveau.modeset and radeon.modeset, and everything fixed and endeavour booted. I wish devs would solve this problem in the future tnx
I'm surprised that those would affect it.
I saw nomodeset in the above image?
Edit: Glad you got it installed.
This topic was automatically closed 2 days after the last reply. New replies are no longer allowed.