Hi
I have a fresh install of EndeavourOS (Gnome) on a new PC. I've tried various ways to persistently enable WOL, but I cannot make it work after a reboot. Right now, it looks as if it is enabled after a reboot:
sudo ethtool eno1 | grep Wake-on
>     Supports Wake-on: pumbg
>     Wake-on: g

And from the network manager: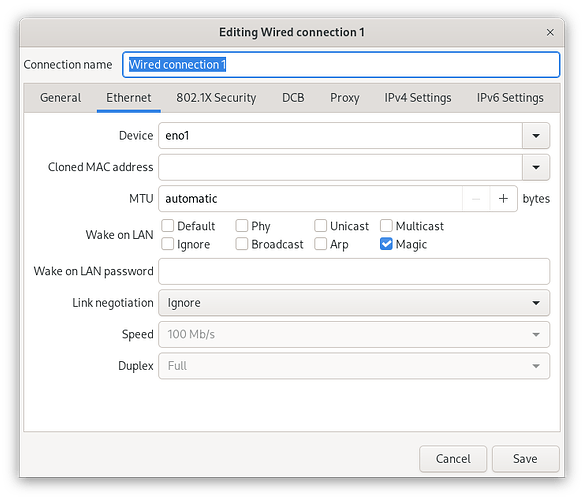 However, it does not work. If I then run sudo ethtool -s eno1 wol g I can suspend and wake the PC until the next reboot.
I've tried various ways of making it persistent from https://wiki.archlinux.org/title/Wake-on-LAN (systemd.link, a systemd service and a cron task) but none of them works for me. I also found this topic (Wake on LAN not working - #4 by mbod) on the forum, which looks similar, but I don't have tlp installed, so this unfortunately does not solve my problem. However, it might be a similar issue, that some other service on the system disables WOL after e.g. my systemd service (or the Cron task may run before the network interface is up? I'm not sure), but I cannot figure out which one.
How do I proceed from here?