Is there a way to activate the AUR for my downloads through the GUI in KDE?
Endeavor has AUR enabled through yay and is installed by default on your system.
Maybe you see, I misunderstand your question about my bad English?
I am looking for the VPN Windscribe that I could find in the AUR with manjaro, but with discover it isn't there.
yay windscribe

yay without parameters will efectively search for the term both in offical repos and in aur, the same way you would search in a GUI tool.
Now, regarding your question about how to activate AUR in GUI, you'd first have to say which GUI you are using.
There are several options, e.g.:
Though I think most people would say Pamac.
Hi @Alexander,
Welcome!
EndeavourOS is a terminal-centric distro, so we don't offer you GUI tools out of the box to make your jumpstart easier, instead, we offer you the opportunity to give you full control from the start in creating a system that suits your idea in computing.
You can easily access AUR packages from the terminal via the included package yay. Simply type yay <package_name>.
That being said which GUI are you referring to.
well let's wait for someone who knows about discover to answer this.
I only know in pamac: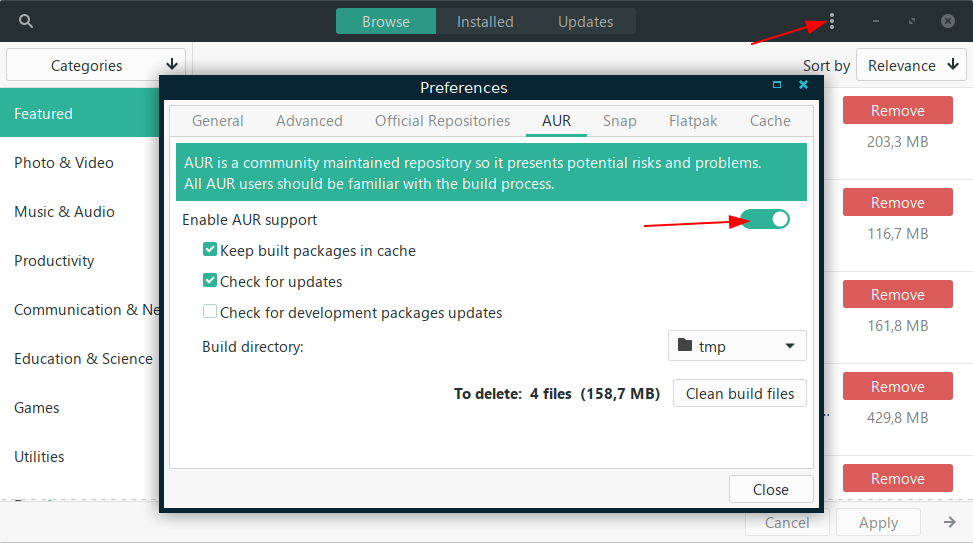 I did that, is there a way I can install windscribe now? Thanks.


yay [searchterm]
will output a list of matching packages. simply type the number of the packages you wish to install and press enter
discover doesn't support the AUR.
It relies on packagekit and as far as I know there is no packagekit backend for the AUR.
Further, since packagekit disallows manual intervention by design, it would be difficult to use discover for the AUR.
I would take a look at bauh if you want a graphical package manager which supports the AUR.
where can I get Pamac GUI?
It is in the AUR
You will need to use yay to install it as described above.
]$ yay pamac
8 aur/pamac-qt-git r80.f23e1c8.2019.07.31-1 (+1 0.13) (Obsolète : 2020-04-23)
A Qt5 frontend for libpamac - git version
7 aur/pamac-zsh-completions 0.6-1 (+2 0.21)
ZSH completions for pamac
6 aur/pamac-cli 9.5.6-1 (+4 0.04)
Pamac cli frontend for libalpm
5 aur/pamac-classic 7.2.1-1 (+15 0.11)
A Gtk3 frontend for libalpm - classic version
4 aur/pamac-aur-tray-appindicator-git 9.5.6.r1.g88346f9-1 (+19 0.89)
Tray icon using appindicator which fits better in KDE - git version
3 aur/pamac-aur-git 9.5.6.r1.g88346f9-1 (+19 0.89) (Installé)
A Gtk3 frontend for libalpm - git version
2 aur/pamac-tray-appindicator 9.5.6-1 (+29 1.31)
Tray icon using appindicator which feets better in KDE
1 aur/pamac-aur 9.5.6-1 (+294 4.25)
Could not find all required packages.
@jonathon any idea wich of the below packages Manjaro is including in their official repo?
None of those packages are exactly the same as what Manjaro has in their repos if you review the PKGBUILDs.
The closest you will get is probably pamac-cli, pamac-aur and pamac-tray-appindicator.
When I see the terminal, my hands get sweaty and my blood pressure shoots up.
Can someone show my step by step so I can copy and paste how to get pamac and its gui?
Many thanks.