Actually there are three different options available to install packages in EOS.
1. By selecting them in Calamares-installer: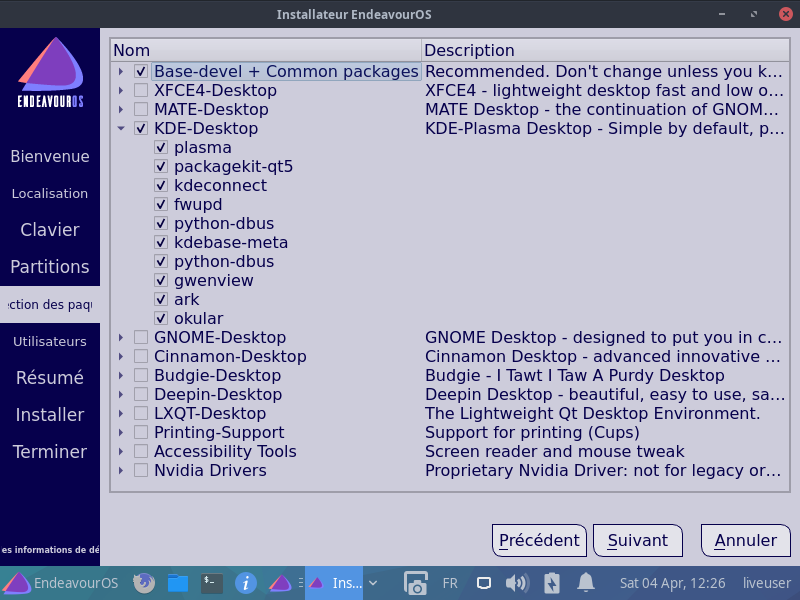 2. By installing them via CLI-command after finishing base system installation:
$ sudo pacman -Syyu wpa_supplicant networkmanager blablabla

3. By using Discover to install them via GUI after finishing base system installation
(I guess, no screenshot required here

)
So my questions especially about the category Base-devel + Common packages group are:
Are there any differences regarding package function why I should choose one option over the other? (e.g. installing wpa_supplicant during installation or later on via CLI)
Do the packages get pre-configured differently when I install them via Calamares-installer in comparison to CLI?
Do all packages of Calamares exist with identical names within the repos (to install them easily via CLI later on, using the same names)?
Or does Calamares provide something like Calamares-specific meta-packages (that technically don't exist in reality) but contain a group of "real" packages to get the desired package to work?
If the latter is true, I couldn't install them via CLI because I wouldn't know what else Calamares has installed to get the package working. Therefore better to ask here.

Furthermore, some packages seem to be mandatory to install them during initial installation already. See here for example the package ethtool: