Just changed to this powerhouse of a beast:
CPU:
    model: AMD Ryzen 9 5900X bits: 64 type: MT MCP arch: Zen 3 gen: 4
    built: 2021-22 process: TSMC n7 (7nm) family: 0x19 (25) model-id: 0x21 (33)
    stepping: 0 microcode: 0xA201016
    Topology: cpus: 1x cores: 12 tpc: 2 threads: 24 smt: enabled cache:
    L1: 768 KiB desc: d-12x32 KiB; i-12x32 KiB L2: 6 MiB desc: 12x512 KiB
    L3: 64 MiB desc: 2x32 MiB
    Speed (MHz): avg: 2614 high: 3741 min/max: 550/4951 boost: enabled
    scaling: driver: amd-pstate governor: schedutil  
    bogomips: 177327
    Flags: avx avx2 ht lm nx pae sse sse2 sse3 sse4_1 sse4_2 sse4a ssse3 svm

Per default EndeavourOS using power-profiles-daemon what will not work on AMD CPU all together.
After setting amd-pstate to be used after reading this awsome thread:
i got it to show and let me set all possible frequencies my CPU support:
cpupower frequency-info               
analyzing CPU 0:
  driver: amd-pstate
  CPUs which run at the same hardware frequency: 0
  CPUs which need to have their frequency coordinated by software: 0
  maximum transition latency: 131 us
  hardware limits: 550 MHz - 4.95 GHz
  available cpufreq governors: performance schedutil
  current policy: frequency should be within 550 MHz and 4.95 GHz.
                  The governor "schedutil" may decide which speed to use
                  within this range.
  current CPU frequency: Unable to call hardware
  current CPU frequency: 2.93 GHz (asserted by call to kernel)
  boost state support:
    Supported: yes
    Active: yes
    AMD PSTATE Highest Performance: 166. Maximum Frequency: 4.95 GHz.
    AMD PSTATE Nominal Performance: 124. Nominal Frequency: 3.70 GHz.
    AMD PSTATE Lowest Non-linear Performance: 58. Lowest Non-linear Frequency: 1.73 GHz.
    AMD PSTATE Lowest Performance: 19. Lowest Frequency: 550 MHz.


Without amd_pstate enabled it was only able to switch between 3 frequencies 2,4GHz 3,3GHz and 4,95GHz
First tool i was thinking of to control power modes was TLP and it somehow do work fine after some setup you can do with tlpui-git


I do set in min and max freqs for my CPU according to the output from cpupower frequency-info
and it now is able to lower the frequencies down to 550MHz and up to full speeds depending on my usage.
Fans are way more silent and driving under 1000RPM now CPU temperature is on 45°C in normal Desktop usage before i had around 64°C.
And if this is not enough i can force to the lowest freq also with:
sudo cpupower frequency-set -u 550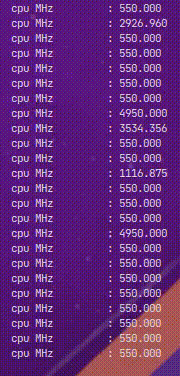 As someone never used AMD CPU i am somehow now in the position to see what we will need to have the same functionality as with intel CPUs and power-profiles-daemon, but i am not sure if it will be easy to get something implemented per default.
Asn some questions are open… is it always needed to force using amd-pstate and what is about other AMD CPUs do they have frequency scaling work out of the box?
So if you are using AMD CPU please share your findings and info on what you are using and what is offered by your CPU.
I do currently also running on linux-amd
Also available prebuilded if you mind building it … can take some time also if you have 12 Cores on 4.94 GHz…
[linuxkernels]
Server = http://nhameh.ovh/$repo/$arch
SigLevel = Optional TrustAll