you always make me smile .

you serious + funny .
Never needed it
Im a single monitor not far from me or too high a resolution for me to pick things out kinda person. Though i guess for some its useful

The more you know
I've used it ever since Amiga days (it was called eyes then, not xeyes). And I had a single 640×200 monitor on Amiga, of course (4096 colours!).
is wayland on KDE even usable yet? I heard its still rough around the edges vs gnome+mutter or something like i3+sway
Create an fully transparent window over ALL available monitors, then pick the mouse direction info from that window. Trivial! Of course, while you're there you can keylog too…
Depends on what you mean by usable. It works. It's not without flaw.
Yeah, but I want to be able to click on stuff, too.
Just pass it on to whatever you overlap…
Do yourself a favour and
sudo pacman -S xorg-xeyes

Run it with
xeyes -fg black

Or if you're like me, make an alias:
alias xeyes='setsid xeyes -fg black >/dev/null 2>&1'

You're welcome
Of course, if you're using Wayland, then it won't work… The eyes will only move when your cursor is inside the window, and there will be ugly rendering artefacts.
Im a wayland heathen unfortunately
and id rather not have some eyes looking around on my monitor but thats just me
Then maybe we'll come up with a Wayland solution!

You don't know because you haven't tried it!
It might be nice if there were a '5 eyes' version of the app - feeding paranoia can be relaxing ("see - they really are watching").
You can run multiple instances of xeyes.
This solution is limited to an even number of eyes, unfortunately (though I suspect you can work around that with some clever overlapping).
EDIT:
Yeah, that totally works.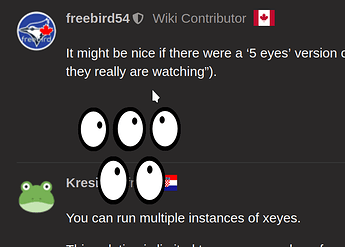 we need a 14 eyes version

Is it only for me that as "simple" a thing as adding/removing a virtual desktop in Plasma/Wayland just makes the whole DE freeze? I'm also getting Plasma crash notification each time I login into the session.
Do you have a minimal example that compiles? It's a bit hacky, but if it works… Just a big transparent window that passes all events to everything behind it. That's all I need, really.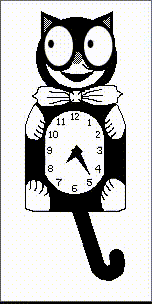 My one is one in 3: eyes cat clock
Yeah, that's pretty sweet!
Of course, xclock works fine on Wayland.
As far as I can tell, xeyes is supposed to work with XWayland programs (moving eyes), but not with native Wayland programs. So it is supposed to work to a certain extent.
Just what I found out doing a quick search. Never used it myself.
No, that's not good enough, unfortunately…
What I mean is running Sway, or GNOME (with Wayland), or KDE (with Wayland), and having a working alternative to xeyes.
Can we make simple screen recorder work too? Then I'll run Wayland on KDE. Maybe!