Hello,
First of all if any similar topic already exists or not for this part of forum, please feel free to redirect me to the correct one, thanks!
Now the problem:
I'm using several different keyboard layouts and one of them is missing the most usable keymap.
Namely: Georgian keyboard is only represented with 2 keymaps: MESS and ergonomic, however both are the least popular and the default one for that language is - Georgian (QWERTY): http://kbdlayout.info/kbdgeoqw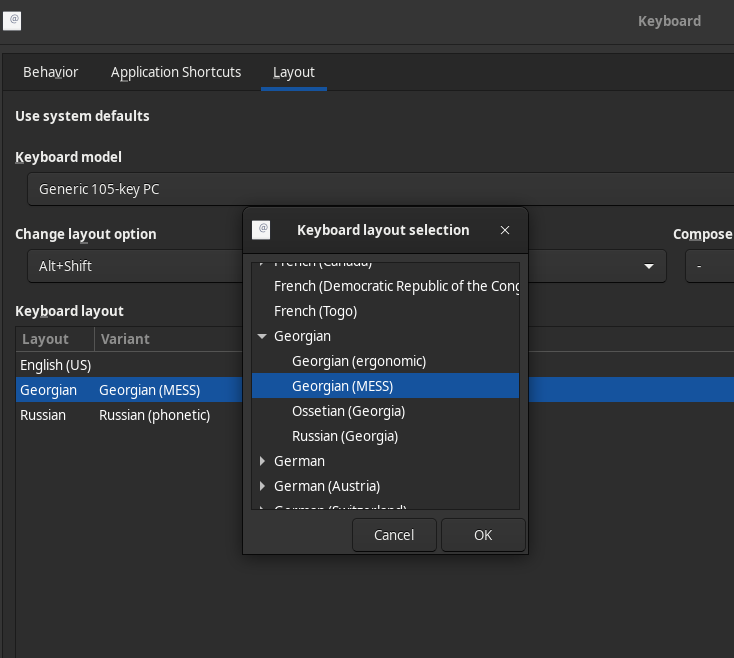 Is there any way to manually add it?
P.S. I'm a total noob in EOS/Arch (previously only had some interaction with Pop_OS and Mint), so please go easy on me : ))
System specs:
OS: EndeavourOS Linux x86_64
Kernel: 6.0.8-arch1-1
Packages: 896 (pacman)
Shell: bash 5.1.16
DE: Xfce 4.16
WM: Xfwm4
WM Theme: Default
Theme: Adwaita-dark [GTK2], Arc-Darker [GTK3]
Icons: Qogir [GTK2/3]
Terminal: xfce4-terminal
Terminal Font: Source Code Pro 10
Thanks in advance.