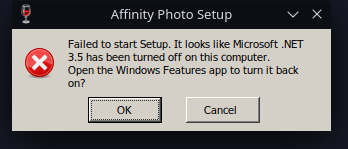 anyone can tell me how to turn on Microsoft .net ?
You need to install it via:
winetricks

for your Wine prefix, but that doesn't matter because Affinity products won't work in Wine unfortunately.
okay, what type of apps won't work in wine?
There's no particular type, it's just i was interested and know for a fact they don't work, also tried myself multiple times…
You can search and see threads about it on Affinity forum.
Rating for the app is garbage but someone in the comments mentions getting it working.
Getting to start doesn't mean it's not absolutely unusable glitchfest, which it is
Slightly off topic, but Krita got updated to version 5 yesterday and it's bloody fantastic! Also GIMP.
Who needs Affinity crap anyway?
Wine can get some things working. You've had several threads about trying to get Windows programs working on Linux. The reality is you're generally going to have s tough time with a lot of it. You're trying to use things that were never made to work in Linux. It's like trying to put a Honda engine into a Ford. And then trying to run all of the Ford electronics and components with it instead of the Honda bits you just put in.
Wine can get some of them running to varying degrees. You may find yourself having a much easier time with things designed to run on Linux though.
If you absolutely must use certain programs for work for instance, I'd get another computer, or dual boot in a different HD.
4 - 5 months ago i was a windows user so that time i like this software not photoshop , i am right now in linux so i want try , but seems like not work in linux
.Net apps have a bad rep when it comes to working with Linux. Unless .Net core seems to work but has not used any windows apps in Linux. If I want to use a windows app then I install it in my windows VM much easier than going through a lot of troubleshooting.
Not really.
Mostly problems are coming from latest versions of mvc, d2d1 or some very very specific to program things, like in case with Affinity…
It's not easy getting things running using wine when it's based on .net. Wouldn't it be easier to just run the software in a VM?
It would be different, but certainly easier