The article appears incomplete.
Last sentence: "To use r8169 kernel module instead, you___________"
you check in /etc/blacklist.conf
3 possibilities
try and reboot for network results
It's not showing on this page.
yes it is only a preview you need to click on header to get to the wiki entry, this is standard on WORDPRESS
People don't understand i guess too because i didn't! I was looking for more in the sentence but it stops.
may we can add a …read more link
Good idea

should be there but is not showing up… @Bryanpwo ?
It was written in the wrong place, the wiki article is now over here:
if you searching on main Webside it searches the wiki also, and will list entries as articels:

and also other posts do not show the read more hint at the end of the showing part of the article: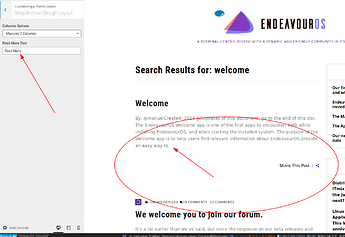 The posts are under control of the Wordpress theme settings, the wiki is controlled by wedocs and I've put it in the settings but it doesn't show…
EDIT: It's not possible to show it in wedocs articles, the plugin doesn't have a setting for single articles for it, it only is available for the header group.
fixed now!
Searches will show read more badge to click to full article …