Ok ok… so there is only one question left!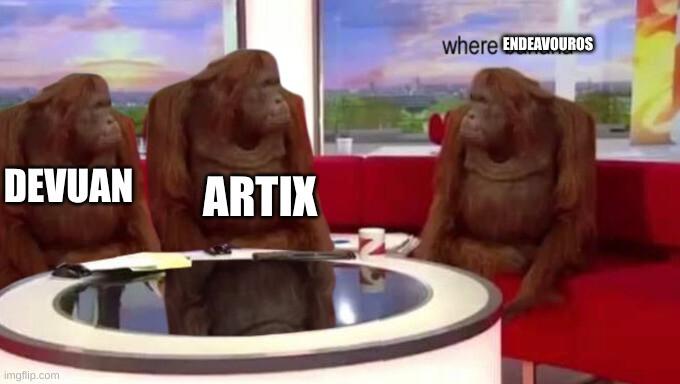 gimme it to me!!1
but seriously, for me, i dont care if systemd or not. My Server is except of Proxmox himself systemd free (all machines devuan).
My Backup Machine (backupf if my main system have any problem, no data) behind my Desk where i sit right now, runs Artix with openrc.
And if im honest, i did notice the "mass exodus" to systemd, and always wondered why, as well as read many wikie entries about what systemd was and what advantages it had, but honestly never understood it. So I understand the discussion from both sides, but the actual discussion not really.
If I now compare, for example, the Artix machine with the Endeavouros machine, the Endeavouros machine can do nothing that the Artix machine can not also and vice versa.
But probably I'm honestly just too stupid to understand this

The problem I have but also with ALSA->Pulseaudio->Pipewire, X->Wayland, "Old AUR Upload mechanism"->New one with Git and certainly with some other things I have forgotten in the meantime