Well it's strange to me as python 3.8 is installed. So i don't know?
Edit: There is no libhandy installed.
All I can tell you is, there's a libhandy 1.0.0-1 in the Arch Staging repo.
There's also the AUR package called libhandy1 1.0.0-2.
I don't use Lollypop, so I can't give you any more than that. Good luck.
Okay i tried libhandy and it didn't launch. So i uninstalled it and installed libhandy1 from the AUR. Now it launches but the program looks a little different so they must have changed it a bit.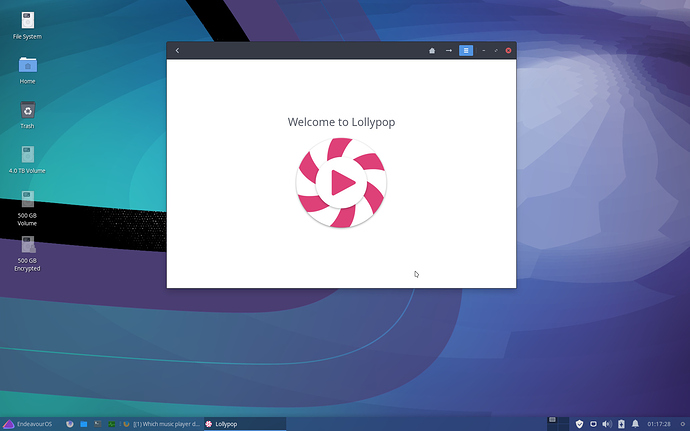 Use the git version of Lollypop lollypop-next-git works fine and yes a few changes to interface
Yes, It looks exactly the same. I just installed libhandy1 and it worked. Now i uninstalled it and tried this version and it installs libhandy1 along with it.
Yuck, that is some ugly mobile like design. Look at all that wasted vertical space.
Plexamp has been working like a charm since somebody fixed it for Linux. I got Plex on all my devices, so it's the perfect solution. Well… would be perfect, if Plexamp was smart enough to try to play the downloaded media from the phone instead of trying to stream it from a server that is not online.
Did you try VLC Media Player?
that look ugly also like @Sojiro84 say so much wasted space

i'll stay with cmus
Looks pretty cool!
foobar2000+plugins'esque
Gotta try it
I've tested them all! VLC 3 is not so good for slightly larger music libraries unfortunately. More for a couple of songs at a time. VLC 4 is much better for music. However, it is only in nightly build.
Welcome to the forum @aeneass-steitmann!
For me, a built in DLNA client is a must for a media player. The last time I checked, VLC was one of the very few that has a DLNA client out of the box.
Do any of the above mentioned media players have DLNA capabilities built in or as a plugin?
Pudge
EDIT:
Ooops, where are my manners? Welcome to the forum @aeneass-steitmann. Thanks for giving EndeavourOS a try. I hope you enjoy your time here.
Clementine or Strawberry, depending on the distro for me. Really like how they're laid out, they're reliable, they simply work.
Does any of the many options listed here work well with a library on a different machine? I tried a few over the years but none would work properly when pointing them at something like smb://homeserver/Music
That is why I use VLC and it's DLNA client. If you install minidlna on a networked Linux machine it works great for me.
Pudge
I use an autofs file to map to a cifs share on my NAS for my music collection and both Clementine and Strawberry has never given me a single issue other than taking a minute or 5 the first time they connect to build their DB.
This seems to work well, thanks for the tip!