Running Endeavour w/Gnome.
I enter password, and it boots normally. No other sign of anything being wrong.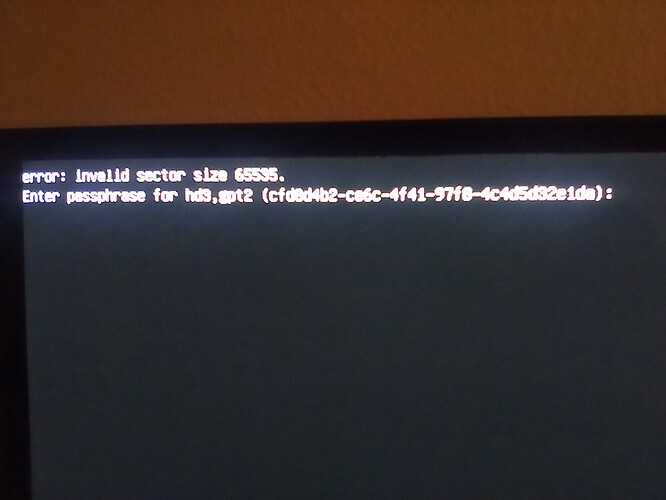 this is old limitation ( no more than 65635 sectors for disks in MBR and not more than 2To to address sectors size)
Not sure why I was getting error, but it s pretty dumb. I doesn t occur anymore. Also it wanted a password for hd9, and now it wants pass for hd1. I only have 1 drive in system.
Maybe your bios needs an update?
Or, hopefully not, your HD is ageing and beginning to fail?
The first idea to me seems more likely.

Is this error from the drive that has EndeavourOS installed or do you have other drives or another external drive plugged in?
Endeavour is installed on it. Only using one drive. A brand new 1Tb NVMe from Dell…though it doesn t seem to be an issue anymore as it boots normally now.
Did it have Windows on it originally?
I agree as the drive is brand new. I will see if there are any bios updates available for my puter.
The computer did when I bought it, but it s a brand new drive. Endeavour is the first OS installed on it.
If it had Windows on it and was originally formatted with NTFS it may be something to do with how the drive was originally set up.
To be honest although I have only one internal drive it may have had an external drive plugged in. I don t remember. It s interesting. I do have a lot of saved data on many drives. That might explain why it stated hd9 in the error, but I haven t used ntfs for years.
That would do it if an external drive was plugged in.
This is why i asked previously.
Yea I caught that after. I was just thinking of internal drives.