I have just installed EOS via online installer to a friend's laptop, with Plasma as the only DE. However the Welcome app is misbehaving.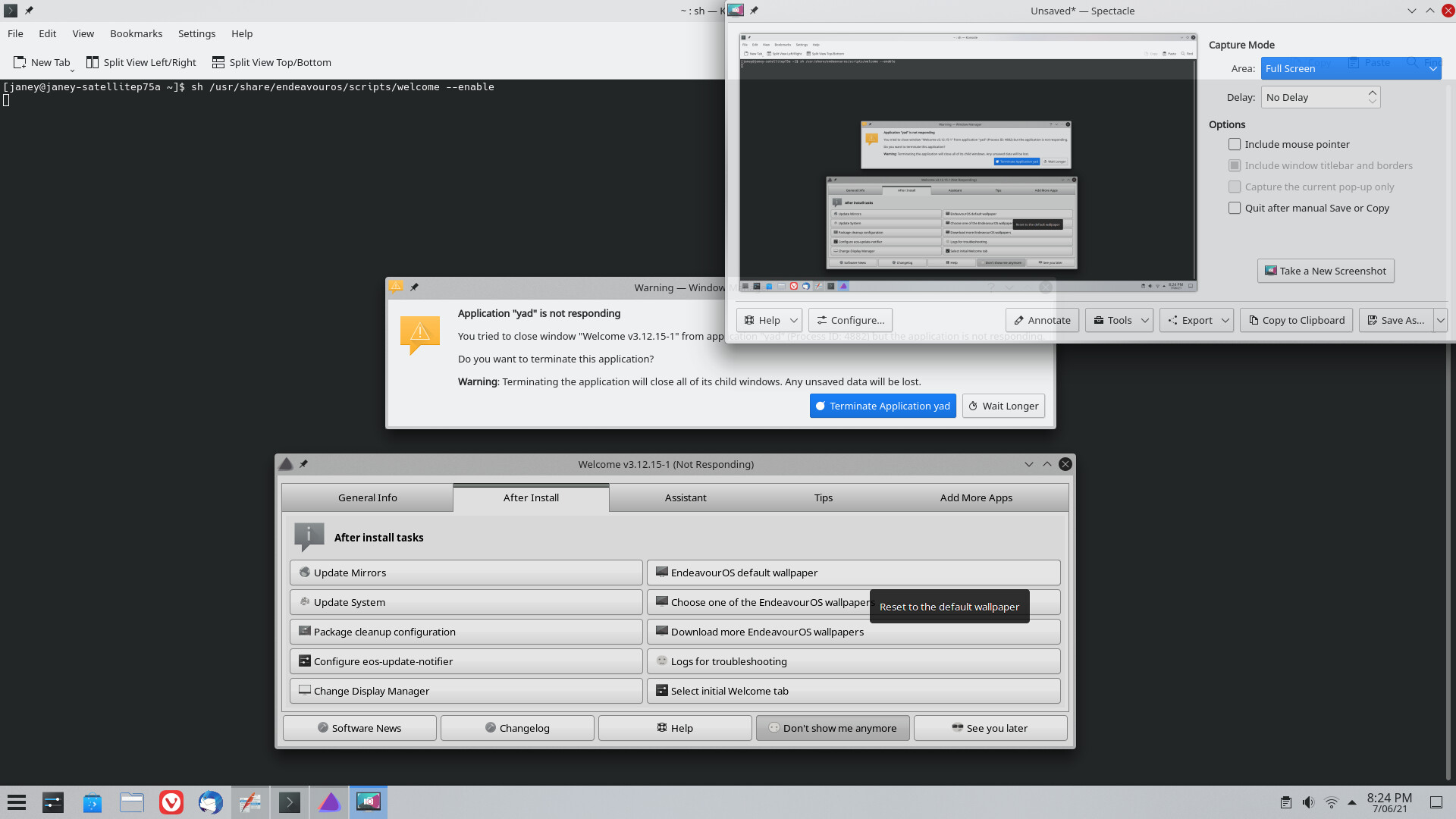 If I click the close at top right, nothing happens. Same with Don't show me anymore. Eventually KDE figures out Yad is not responding, so I can kill it.
Nothing is put to CLI in the way of debug messages either.
System:    Kernel: 5.12.9-arch1-1 x86_64 bits: 64 compiler: gcc v: 11.1.0 Desktop: KDE Plasma 5.21.5 tk: Qt 5.15.2 
           wm: kwin_wayland dm: SDDM Distro: EndeavourOS base: Arch Linux 
Machine:   Type: Laptop System: TOSHIBA product: Satellite P75-A v: PSPLNU-00H004B serial: <filter> 
           Mobo: Type2 - Board Vendor Name1 model: Type2 - Board Product Name1 v: Type2 - Board Version serial: <filter> 
           UEFI-[Legacy]: Insyde v: 1.00 date: 05/02/2013 
Battery:   ID-1: BAT1 charge: 42.7 Wh (100.0%) condition: 42.7/48.6 Wh (87.8%) volts: 12.4 min: 10.8 
           model: Panasonic PA5121U-1BRS serial: N/A status: Full 
           Device-1: hidpp_battery_0 model: Logitech Wireless Mouse M325 serial: <filter> charge: 100% (should be ignored) 
           status: Discharging 
CPU:       Info: Quad Core model: Intel Core i7-4700MQ bits: 64 type: MT MCP arch: Haswell rev: 3 cache: L2: 6 MiB 
           flags: avx avx2 lm nx pae sse sse2 sse3 sse4_1 sse4_2 ssse3 vmx bogomips: 38324 
           Speed: 2392 MHz min/max: 800/3400 MHz Core speeds (MHz): 1: 2392 2: 1424 3: 1312 4: 2395 5: 2395 6: 2339 7: 2395 
           8: 2395 
Graphics:  Device-1: Intel 4th Gen Core Processor Integrated Graphics vendor: Toshiba driver: i915 v: kernel bus-ID: 00:02.0 
           chip-ID: 8086:0416 
           Device-2: IMC Networks TOSHIBA Web Camera - HD type: USB driver: uvcvideo bus-ID: 1-1.4:4 chip-ID: 13d3:5606 
           Display: wayland server: X.org 1.20.11 compositor: kwin_wayland driver: loaded: intel 
           unloaded: fbdev,modesetting,vesa resolution: <missing: xdpyinfo> 
           Message: Unable to show advanced data. Required tool glxinfo missing. 
Audio:     Device-1: Intel Xeon E3-1200 v3/4th Gen Core Processor HD Audio vendor: Toshiba driver: snd_hda_intel v: kernel 
           bus-ID: 00:03.0 chip-ID: 8086:0c0c 
           Device-2: Intel 8 Series/C220 Series High Definition Audio vendor: Toshiba driver: snd_hda_intel v: kernel 
           bus-ID: 00:1b.0 chip-ID: 8086:8c20 
           Sound Server-1: ALSA v: k5.12.9-arch1-1 running: yes 
           Sound Server-2: JACK v: 0.125.0 running: no 
           Sound Server-3: PulseAudio v: 14.2 running: yes 
           Sound Server-4: PipeWire v: 0.3.29 running: yes 
Network:   Device-1: Intel Centrino Wireless-N 2230 driver: iwlwifi v: kernel port: 5040 bus-ID: 01:00.0 chip-ID: 8086:0887 
           IF: wlan0 state: up mac: <filter> 
           Device-2: Qualcomm Atheros AR8161 Gigabit Ethernet vendor: Toshiba driver: alx v: kernel port: 3000 bus-ID: 07:00.0 
           chip-ID: 1969:1091 
           IF: enp7s0 state: down mac: <filter> 
Bluetooth: Device-1: Intel Centrino Bluetooth Wireless Transceiver type: USB driver: btusb v: 0.8 bus-ID: 1-1.3:3 
           chip-ID: 8087:07da 
           Report: This feature requires one of these tools: hciconfig/bt-adapter 
Drives:    Local Storage: total: 817.88 GiB used: 76.65 GiB (9.4%) 
           ID-1: /dev/sda vendor: SanDisk model: SDSSDHP128G size: 119.24 GiB speed: 3.0 Gb/s serial: <filter> 
           ID-2: /dev/sdb vendor: HGST (Hitachi) model: HTS541075A9E680 size: 698.64 GiB speed: 3.0 Gb/s serial: <filter> 
Partition: ID-1: / size: 100.14 GiB used: 11.98 GiB (12.0%) fs: ext4 dev: /dev/sda1 
Swap:      ID-1: swap-1 type: partition size: 16.94 GiB used: 0 KiB (0.0%) priority: -2 dev: /dev/sda2 
Sensors:   System Temperatures: cpu: 46.0 C mobo: N/A 
           Fan Speeds (RPM): N/A 
Info:      Processes: 264 Uptime: 3h 07m Memory: 15.4 GiB used: 2.32 GiB (15.1%) Init: systemd v: 248 Compilers: gcc: 11.1.0 
           Packages: pacman: 1141 Shell: Bash v: 5.1.8 running-in: konsole inxi: 3.3.03