Greetings lovely community,
One of the first things I've always done when using a fresh install of Gnome is adding window titlebar buttons for maximize and minimize. Gnome's default only shows the close button in the titlebar and I always found this counter intuitive; not necessarily by a design point, but by a practical and functional point. I've always scoffed at the idea of using just a close button, it seemed like a regressive paradigm. But I'll admit from a design point, I have always liked the clean look and minimal clutter.
I got to wondering recently, could I be as productive if I tried the Gnome approach? Could I say goodbye to two buttons that I've been so familiar and intimate with for many years?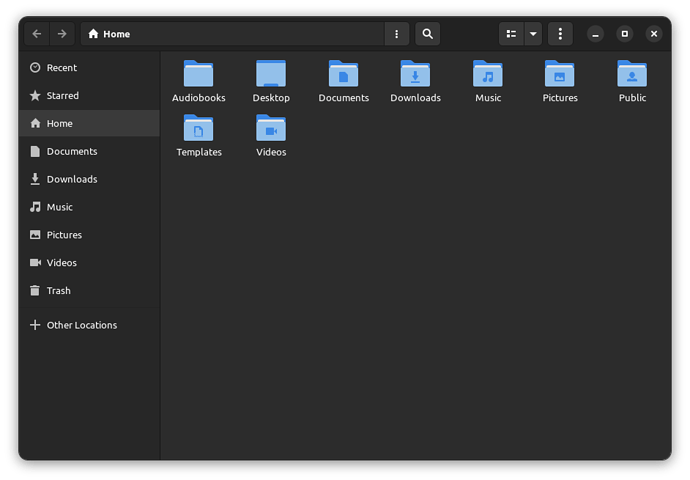 Well, I did an experiment for the last two weeks or so and I can safely say I've been able to adapt my workflow (with minimal effort!) to Gnome's minimal titlebar button approach. If you're curious to try as well, at the very least I'd say it's worth a try. It does feel weird the first hour/day, but after that it feels like second nature and I'm just as productive as before. If you're curious how my experiment went and what to do, I'll do a quick breakdown below.
What you'll need:
Gnome Tweaks tool
And an open mind, that's it!
Maybe you've already been using just the close button, but this is for anyone curious to try it out that was like me and never really gave it a chance.
Open up Gnome Tweaks, under the Window Titlebars tab, adjust the settings to look like what's displayed below: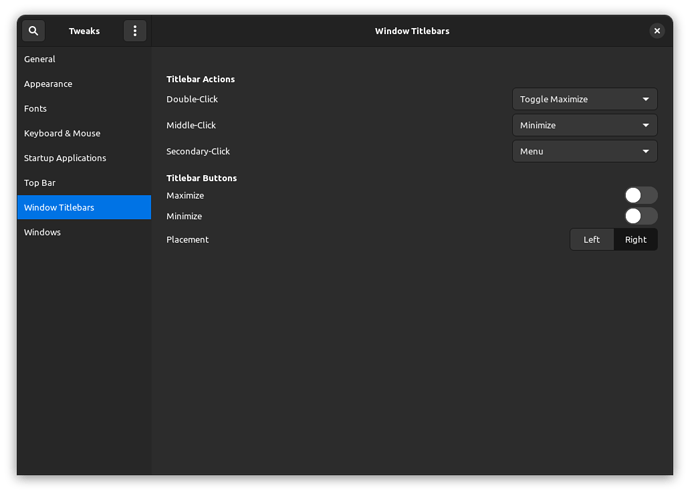 I turned off the Maximize and Minimize buttons, and for myself I changed the minimize function to middle mouse click. This feels weird at first when I started using it, but it does allow me to minimize a window with less mouse travel, because I can click anywhere on the titlebar to minimize it, which is a great little benefit. Doubling clicking the titlebar maximizes the window, but usually my windows are in a windowed mode or already full screen, so I don't use the maximize function often.
It mostly came down to a bit of overcoming some muscle memory I've been programmed to minimize by dragging my mouse all the way to the top right. But by dragging my mouse (depending on the application of course), to anywhere on the titlebar, it feels every so slightly more efficient and intuitive to me now.
Now I'm left with a more "traditional" (some might say vanilla!) approach to my Gnome desktop and I gotta say I couldn't be happier. I'm going to be sticking with this approach from now on as it feels a bit more productive and looks cleaner overall.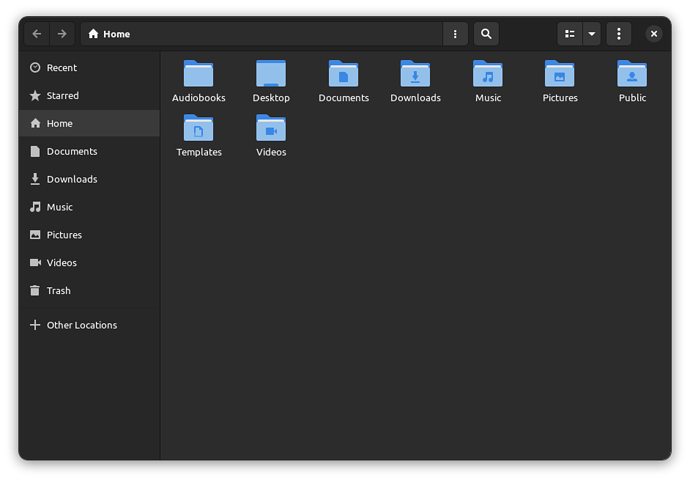 If you ever feel like giving the experiment a try and doing something "the Gnome way' feel free to share your experience!