So the only translation that is still missing is: English - Foreign?

Oh yes, we need a Vulcan translation, too.
I'm also considering Klingon, actually…
Bryan, I'm back. Will start tomorrow.
Cheers!
To give the translated articles more consistency, we're asking for extra translators in Portuguese and Spanish.
So if you know these languages and you want to help us, please let me know.
I'm available to take on the translations into Portuguese.
That's great, I will send you a pm, later this day.
When it comes to translating everything to Swedish, I deem that unnessary as the few of us using Linux are ok at english, but a nice touch would be to implement Swedish in the greeter app at first boot in EOS at the next release.
Is that a possibility?
And, yes I can do the translation.
Yes, it is possible and very much welcome! And thanks for the offer!
In your machine you have the translation files (assuming you have the welcome package installed, and preferably up to date
).
Take file bash file /usr/share/endeavouros/scripts/translations-welcome-en.bash as the base, and translate that directly to Swedish. Save the new file to /usr/share/endeavouros/scripts/translations-welcome-se.bash. You can test the translation with command
   eos-welcome --lang=se

You don't have to change anything in the comments (except some obvious things, you'll see). So mostly the string values should be translated.
When you are ready, please let me know!
I do, I just have to enable it. cough
I just came back to work after three weeks of Covid, so I'm aming to get it done during the upcoming weekend.

Great to see you back!
Thanks!
An update: I'm on it, but the HTML for some swedish letters (ÅÄÖ,åäö) made it a little bit more labour intense than I initially thought.

Copy/paste, copy/paste…
Work in progress, but I could do with some help regarding the coding of some swedish specific letters, because that's where things seem to go wrong.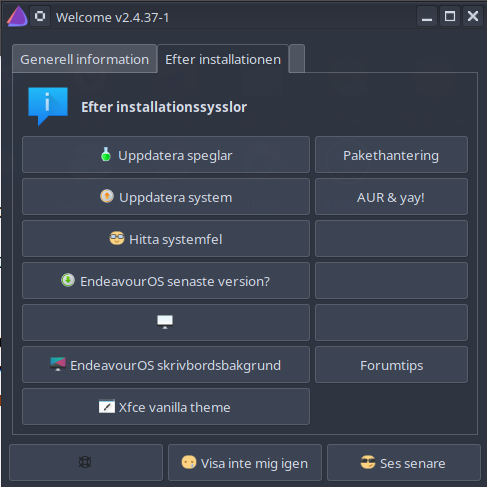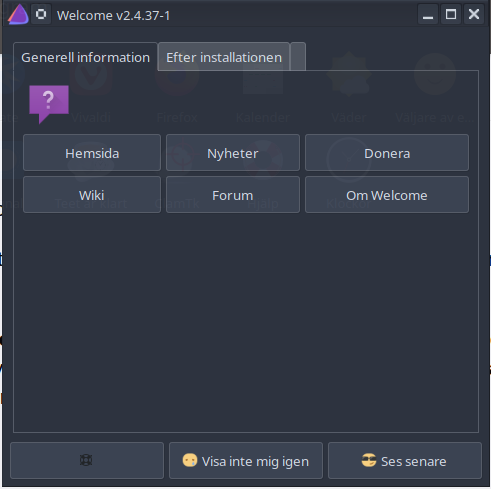 But most certainly not right now, as I'm almost asleep.

It should be quite simple. Here's a picture of the Finnish translation: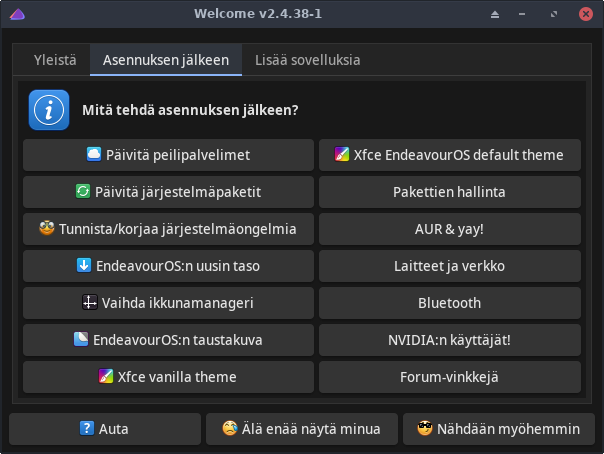 You might want to look at the Finnish translation (bash) file too: https://github.com/endeavouros-team/PKGBUILDS/blob/master/welcome/translations-welcome-fi.bash
I realised what made the problems. I didn't use numerical HTML.
Yes, I should go to bed.

Sorry to bother you. I'll redo that tomorrow.
I can offer support for German if needed. Also can do Bahasa Indonesia (Indonesian) if that's something useful.
Thanks for helping us!
You can use these instructions, just change the country code (the se below) if you create a new translation. Please don't hesitate to ask if there is anything unclear.
Currently the German translation is lacking lines after 125 as compared to the English file.
i can help out in the german section.
Thanks!
We now seem to have many German translators.
As the instructions above are valid for any translation, anybody is free to make one.
Just let me know when you are ready with it, then we can proceed.
Note that we may have to select between different translations…