I recently moved my laptop from Chakra to EndeavourOS with Plasma and am strongly considering the same move on my tower. I do have a few questions regarding the touchpad on my laptop, and those obviously won't apply to the tower, but that's where the Chakra screenshot below comes from - hence it being greyed out.
As you'll see in those screenshots, or as you may be already aware of, Chakra's much older version of Plasma (5.17.3, Frameworks version 5.64.0 and Qt version 5.13.2) has different touchpad settings from the much more recent version EOS comes with.
Specifically, I am looking to enable tap-to-click (greyed out in the EOS settings for reasons unknown to me), and to disable the touchpad when a mouse is plugged in (completely missing from EOS settings).
My question is: are these differences simply because of the much newer version, or is this a difference between what the Chakra and EOS teams "did to" Plasma? Is there a package I would need to install?
Any logs or info needed, just let me know and I'll dig it up.
Chakra's settings: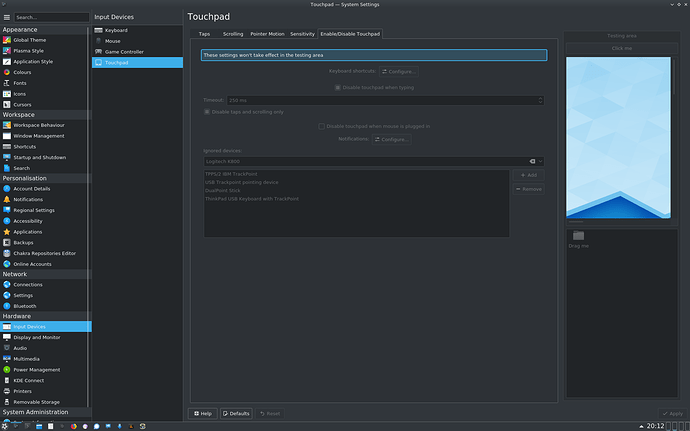 EOS' settings: