Since updating to 2.8.4 Telegram the attachment adding menus have gone all old fashioned looking.
DE KDE, Breeze Light.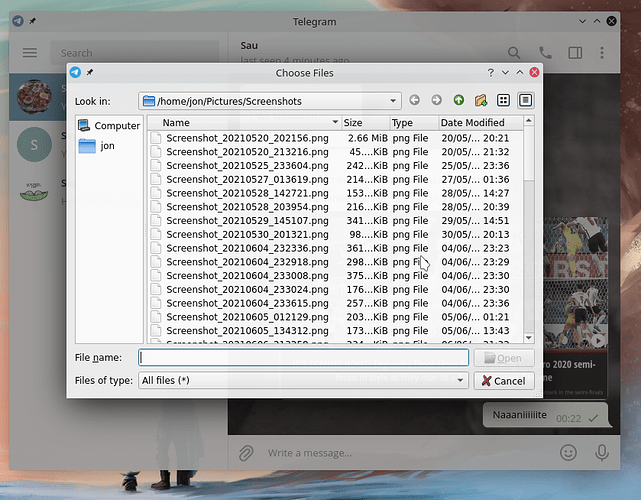 Just go to the Telegram settings, then click on advanced and tick the box use system window frame and the app will adapt your system settings.
Hi Bryan, I did that but it's just that pop up explorer/chooser which doesn't theme correctly.
It was okay in the previous version.
Check your Gnome/GTK appearance settings in Plasma, I think the last Plasma update had set certain settings back to default.
(This was around the same time when Telegram had an update too, so you might be thinking it was Telegram and not Plasma.)
Yep tried that too, still the same. I reckon telegram too, hey thanks though, it's no biggie, I guess the next update will fix it.

No problem. Last tip are you running wayland or Xorg?
Then I haven't got anything to add any more.

hehehe that's fine, thanks Bryan. First world problems and all that, I'll survive.

I'll post here if the next telegram update fixes it

Was there an update for Telegram?
I think so, there was a fairly big list earlier, I'm sure I saw it though. Might be wine induced though.
had another look , still 2.8.4 , sorry


I think you were mixing up the massive Plasma update, but then again, we now know for sure it wasn't Plasma then, that was causing the issue.
True true
Fixed with latest Telegram update to 2.8.11

This topic was automatically closed 2 days after the last reply. New replies are no longer allowed.