Bonjour,
In Gnome, I forgot how to simply change the wallpaper color background…

Thank you,
Thank you,
But, i have a "centered" picture as wallpaper and I want to change the color around that picture.
Rather than expecting an easy way in your DE, it might be simpler to modify the image itself to your specs, using your choice of bitmap editor (paint program). I might use GIMP or I might use Kolourpaint (heavy on the dependencies) or whatever suits you. The steps I would use is to first create a background pic of your chosen background, then 'import' and place the existing image on top of it…
The current background is probably defined somewhere in your theme - and you would need someone familiar with Gnome to sort it that way! Good luck…
With KDE Plasma, it's very easy to change the desktop background.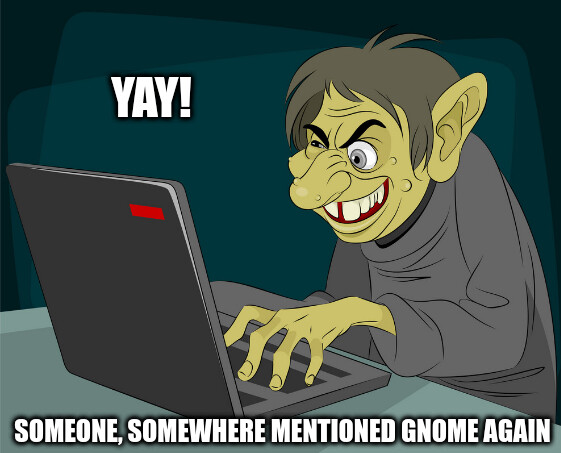 Sorry, the title of the thread says OP is only looking for smart replies, not smartass replies.
Remarkable that you have replied then!
Of course I have, suggesting KDE is the smartest solution to all ɢɴᴏᴍᴇ-related problems, which are never in short supply.
So…
Kresimir and Pebcak again !
Bonjour !
The guy has an unhealthy obsession with me, what can you do…
I don't know what to do…perhaps you may install Gnome !


I still have the nightmares from the last time I used it… It was in 2019, I think… Not knowing any better, I was happy using Unity on 'Buntu, and just updated one day and rebooted to the ugliest, most disfunctional desktop ever! I immediately wiped my computer clean and installed Kubuntu. That's how my distrohopping adventures began. In a way I'm grateful to Canonical, had they kept Unity, I might still be on 'Buntu, and I'd miss out on all the fun here.
I'm open-minded…
I had tried to install KDE…
But the installation send me an error !
I'm sure many users here, including myself, and @ricklinux, would be happy to hold your hand while you install KDE.
I followed the wiki, but nothing to do !
@Olrik, you could set up a new thread, asking how to set up KDE Plasma error-free. There are a number of common errors occuring during and after installation, depending on one's hardware, e.g.

I'll do that, but before, i'll try by myself…to learn
Thank you
Kiss @pebcak

No, I don't want to encourage his self-destructive behaviour.