Hello EOS community, hope you are doing fine.
Noticed today an update in which a grub.pacnew was generated.
Usually, when this happens, I run a "Pacdiff & Meld" to use the new configuration file.
To be sure that everything was up to date, I also run a "sudo grub-mkconfig -o /boot/grub/grub.cfg"
During boot, noticed that the grub is now similar to Arch, no more EOS customizations to it.
I suspect that this is not an expected behavior, right?
[2021-02-24T17:05:29-0300] [ALPM] warning: /etc/default/grub installed as /etc/default/grub.pacnew
[2021-02-24T17:05:29-0300] [ALPM] upgraded grub (2:2.04-9 -> 2:2.04-10)
[2021-02-24T17:05:30-0300] [ALPM] running 'grub-fix-initrd-generation.hook'...
[2021-02-24T17:05:30-0300] [ALPM-SCRIPTLET] ===> INFO: grub-tools / grub-fix-initrd-generation:
[2021-02-24T17:05:30-0300] [ALPM-SCRIPTLET] ===> INFO: /etc/grub.d/30_os-prober changed. See file /var/log/grub-fix-initrd-generation.log.
[2021-02-24T17:05:30-0300] [ALPM-SCRIPTLET] ===> INFO: /etc/grub.d/10_linux changed. See file /var/log/grub-fix-initrd-generation.log.
[2021-02-24T17:05:31-0300] [ALPM-SCRIPTLET] Generating grub configuration file ...
[2021-02-24T17:05:32-0300] [ALPM-SCRIPTLET] Found theme: /boot/grub/themes/EndeavourOS/theme.txt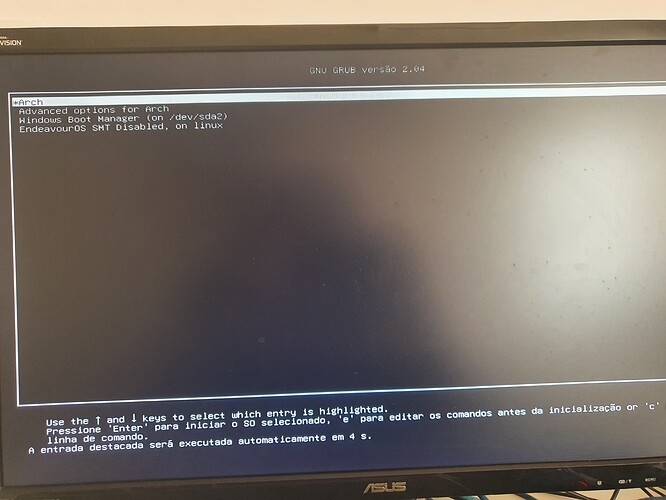 This last one "EndeavourOS SMT Disabled, on linux", was manually created by me inside /etc/grub.d/40_custom