Hello,
when I plugin a removabe device (USB drive, USB stick, Mobile) a dialog pops up and asking, what to do. In this dialog, I'm asked to open the device with EasyTAG.

EasyTAG was the last application I've installed manually.
Can I change this to Files somewhere? EasyTAG is not the best application for this operation.
When I use the Removable Drive Menu Extension ist the behaviour the same, but I can use the exetensions top menu: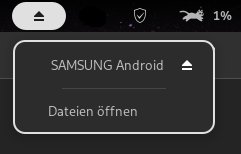 Kind regards,
Marvin