Heya,
I wasn't sure where I could ask this. First of all not even sure in which forum. I chose the one of my favourite distro because here people use to be really helpful. Then also wasn't sure which category was the right one so I chose this one.
Now to my question. About half a year ago I reinstalled my system completely. I saved everything I still needed and copied it over to my new system. Back then I also created a complete image of the drive. Just to be sure. Now I realised there is an program I need to start from that system with those settings and all the data there (complicated to explain why but I can if necessary). So I wanted to copy my saved image back to apply it to the drive (I am not sure if you really say it like that but you probably know what I mean). My problem is now that the drive I saved it on seems to not work well. If I plug it in I can mount it and scroll the files. But when I start copying something it always gives up at some point.
I tried to use rsync to copy it over. Since I thought it might handle that better than the file managers and has some abilities to continue partialy copied files. But it also always failed. When attempting copying that Image it always failed at the same point (very early too). And yeah, I am also not sure if the options I used are the most sensible ones. But here's a screenshot of the point when it failed.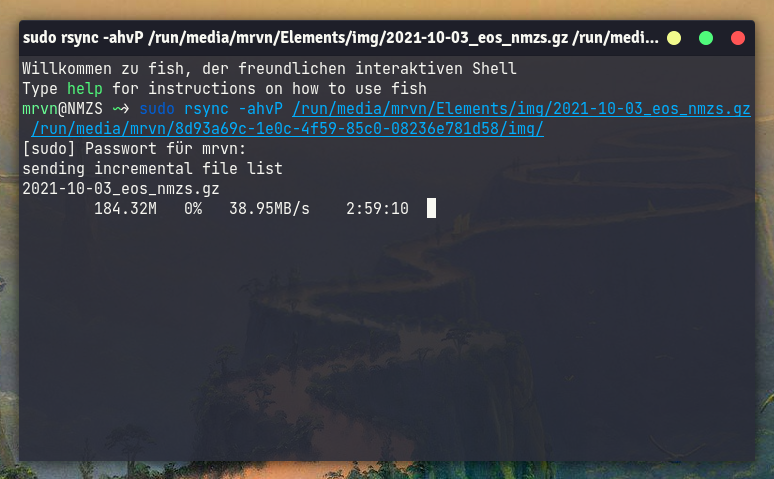 Anyway does anyone have any idea what I could do and if there's a way to completely get that file back somehow? The drive I used is a WD Elements with 4TB (WDBHDW0040BBK-0A) bought 2019 but not used much, only for backups from time to time. File system is NTFS. As far as I saw those drives are build with an USB-Controller directly on the disk-circuit, so it would be no use to open it and to try plugging it in directly via SATA or something. Didn't open it yet to check myself though because I really need those files (or that one (but relatively large) file) and I didn't want to risk anything.
If you have any ideas how I could solve my problem, any tools, things to do, whatever, please help me. Sorry I wrote so much. I might have forgotten to mention some important bit of information nevertheless. If you need more information just ask. And thanks in advance.