I'm really not sure why, but after downloading the "pcloud-drive" package from AUR, things were working as expected for a day or two.
However, now when I launch it, it launches in the background, with no GUI nor tray icon. I actually didn't notice this until I temporarily lost my Wi-Fi connection and received a notification from pCloud that there was no internet connection. Shortly after, the icon showed up.
Been dealing with this for a few days now. I'm having to disable my Wi-Fi before launching pcloud, then reenable it just to get the GUI, but the GUI says everything uploaded/downloaded, which as you can see in KSysguard, is not the case.
Does anyone know why this is happening or what I can do to fix it?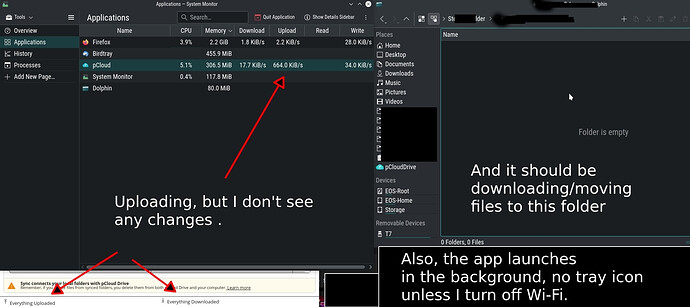 [User@Device ~]$ neofetch
                     ./o.                  User@Device 
                   ./sssso-                ---------------- 
                 `:osssssss+-              OS: EndeavourOS Linux x86_64 
               `:+sssssssssso/.            Host: 20HKCTO1WW ThinkPad P71 
             `-/ossssssssssssso/.          Kernel: 5.17.1-arch1-1 
           `-/+sssssssssssssssso+:`        Uptime: 2 hours, 7 mins 
         `-:/+sssssssssssssssssso+/.       Packages: 1464 (pacman) 
       `.://osssssssssssssssssssso++-      Shell: bash 5.1.16 
      .://+ssssssssssssssssssssssso++:     Resolution: 1920x1080 
    .:///ossssssssssssssssssssssssso++:    DE: Plasma 5.24.4 
  `:////ssssssssssssssssssssssssssso+++.   WM: KWin 
`-////+ssssssssssssssssssssssssssso++++-   Theme: [Plasma], Qogir-dark [GTK2/3] 
 `..-+oosssssssssssssssssssssssso+++++/`   Icons: [Plasma], breeze-dark [GTK2/3] 
   ./++++++++++++++++++++++++++++++/:.     Terminal: konsole 
  `:::::::::::::::::::::::::------``       Terminal Font: Liberation Mono 8 
                                           CPU: Intel i7-7700HQ (8) @ 3.800GHz 
                                           GPU: NVIDIA Quadro P3000 Mobile 
                                           Memory: 3877MiB / 15800MiB



Update: I decided to download the app directly from pCloud. At first, it still recognized my device as the same, so it still didn't launch the GUI. So, I deleted the ".pcloud" folder in the Home directory as well as the "home/.config/pcloud" folder.
Now the GUI has launched from the start, but I now have to wait FOR AGES for everything to verify as already synced.
This is by no means a solution… As such, I have only moved the previous config folders to another area, just in case I run into the same issue after I restart my system a few times. Will update this post on whether this work-around works or not.