They just introduced the RTX 3080s…starting at $699 USD.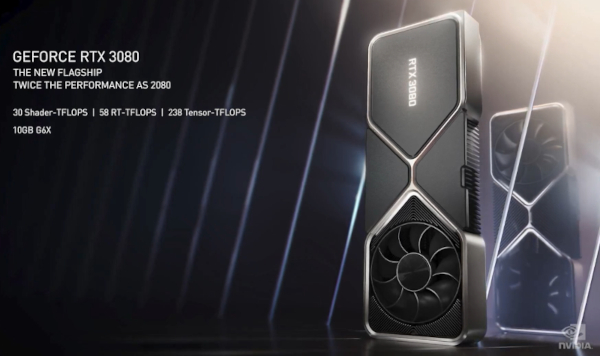 Do you need a nuclear reactor to power it?

Great graphics card though!
Nobody mentioned Linux drivers! I'm appalled.


They introduced three new cards, the 3070, 3080 and the beast 3090 which basically does require a nuclear reactor to power it…at $1500 USD.

Their new DLSS tech is all driven through the drivers. I am like, but…Linux??
I watched… despite of being cheaper from the previous generations, it's going to be to expensive for me… In Brazil, the dollar is around 5,50 Brazilian reais…
Hard times…
thanks for the money bag
I may go for the 3080 to replace my 2080 Ti, and save the extra money for whatever new AMD CPUs come out this year. This is all going to depend if the comparisons they showed between the 3080 and 2080 Ti are accurate. And what AMD has at the high-end for GPUs this year as well.
Same. I want to see some benchmarks…and I will need to sell some body parts. It is a plan.

I'm kind of in a lucky situation, there is a certain U.S. electronics retailer that sells a 2-year replacement plan on GPUs where you can literally bring it back to the store and get a store credit for whatever you paid within that 2-year period. Since my 2080 Ti has been running much hotter than it was when I bought it, I'm going to take advantage of that. I know it is probably just in need of a new application of thermal compound, but since I paid for the replacement plan anyways, I'm going to use it.
Hmmm…3080…3090
need to dig more into that, @Othoric since you got access i'd appreciate any info on real use

LOL…replacement plan = upgrade plan. That is crafty.

I am running a 1660 Super Tuf card, so it would be a good upgrade for me. I just need the prices to stabilize and that means waiting awhile. I have been waiting for this release, lets just hope it stands up to the hype.
Some highlights;
Marvels of NVIDIA Ampere Architecture - 2nd Generation RTX
Enabling the blistering performance of the new RTX 30 Series GPUs and the NVIDIA Ampere architecture are cutting-edge technologies and over two decades of graphics R&D, including:
New streaming multiprocessors: The building block for the world's fastest, most efficient GPU, delivering 2x the FP32 throughput of the previous generation, and 30 Shader-TFLOPS of processing power.
Second-gen RT Cores: New dedicated RT Cores deliver 2x the throughput of the previous generation, plus concurrent ray tracing and shading and compute, with 58 RT-TFLOPS of processing power.
Third-gen Tensor Cores: New dedicated Tensor Cores, with up to 2x the throughput of the previous generation, making it faster and more efficient to run AI-powered technologies, like NVIDIA DLSS, and 238 Tensor-TFLOPS of processing power.
NVIDIA RTX IO: Enables rapid GPU-based loading and game asset decompression, accelerating input/output performance by up to 100x compared with hard drives and traditional storage APIs. In conjunction with Microsoft's new DirectStorage for Windows API,(1) RTX IO offloads dozens of CPU cores' worth of work to the RTX GPU, improving frame rates and enabling near-instantaneous game loading.
World's fastest graphics memory: NVIDIA has worked with Micron to create the world's fastest discrete graphics memory for the RTX 30 Series, GDDR6X.(2) It provides data speeds of close to 1TB/s system memory bandwidth for graphics card applications, maximizing game and app performance.
Next-gen process technology: New 8N NVIDIA custom process from Samsung, which allows for higher transistor density and more efficiency.
Jesus

I don't know…something doesn't feel right to me, all this super-mega-blistering selling points…
I'm willing to see some data

The numbers are sketchy atm. I read that the 3080 is 20% faster than 2080ti but the 3090 is 60%
Meh, it's new and shiny, but it's still Nvidia under the hood. I still agree with Linus and his finger.
When they release all the source code for their drivers, then I'll consider buying another Nvidia card…
Yeah, but i have my doubts about that 60% as well…
However still very interested to investigate more data

Also i laughed so hard when mr. chinese Nvidia SEO talked about coronavirus in the begining…Yeah right, GPU computing to solve coronavirus…aha…Somebody just got insanely rich on bitcoin mining

Pardon my anti-corporate skepticism

I want to see how MS flight sim 2020 is going to run in these new cards…