I was discobot-notified that i'd been bumped up a notch overnight:
Summary

Member
This badge is granted when you reach trust level 2. Thanks for participating over a period of weeks to truly join our community. You can now send invitations from your user page or individual topics, create group personal messages, and have more likes per day.
and
Summary

Congratulations on your trust level promotion!
8 Aug
1 / 2
8 Aug
22m ago

system
40m
Now that you've been promoted, it's time to learn about some advanced features!

Reply to this message with @discobot start advanced tutorial to find out more about what you can do.

We invite you to keep getting involved – we enjoy having you around.
However, still: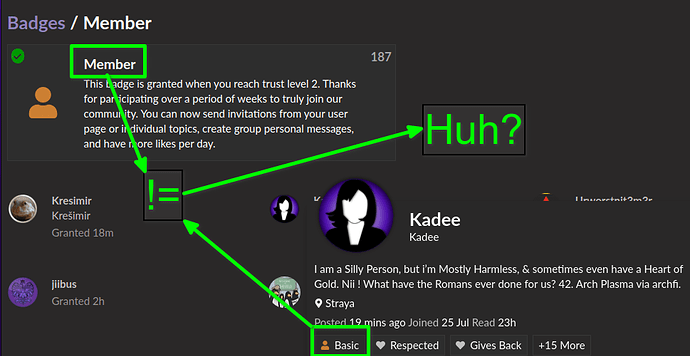 How does this caper work? Is TL2 still only
Basic
… shouldn't it now say
Member
? Have i now gained extra
Like
allowance, or will my allotment of Likes & Emojis continue to run out 7'
before
i try to use one?