For all the Mate lovers out there Mate 1.24 has been released.
I'm wondering if you want it on the new ISO ?

Did you try it ?
Did you find some important changes from the one before ?
I saw this UKUI DE, it's a fork from MATE, seems interesting…but not seems to be on Arch for now !
Is much improvement as you know it well?
Just look at releases notes

I heard about UKUI. We'll see.
As far as I know: python2 removal, zst support in Engrampa, window preview when hovering a button in taskbar. And many other little things.
Spanish:
Mate nació porque un dia un argentino con algo de tiempo libre se tomó unos buenos mates y dijo: Ya estuvo, voy a hacer algo re piola.
English:
Mate was born because one day an Argentinean with some free time took some good mates and said: That's it, I'm going to do something great.
Source: http://disq.us/p/2792gge
Actually it was something like that, Perberos a boy from Cipolletti, Rio Negro, Argentina, (Patagonia Argentina) one day he didn't let Gnome2 die and started to work, getting later Mate desktop, which logo of the desktop is a mate seen from above and the arrow means the bombilla or sucker to extract the juice from the yerba mate infusion, very traditional and daily in my country as well as Uruguay, Paraguay and Brazil.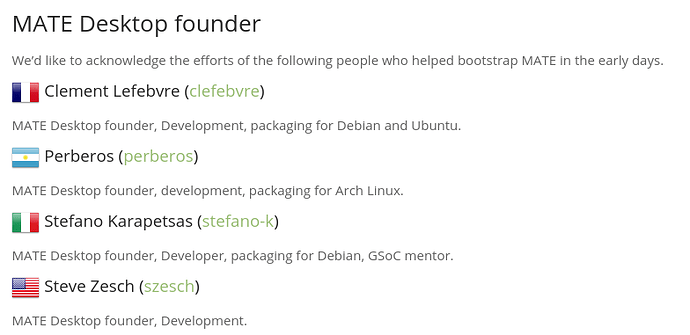 When will it be in the arch repos ?
I built myself Mate 1.24. It will take around a week to be added to testing, and another week to reach community.
@monsieurzik: you'll have to be patient

The source packages are also available for download. Those who want to compile the MATE desktop themselves. https://pub.mate-desktop.org/releases/1.24/

Indeed. It is ported one package after the other in community.
Manjaro released Mate 1.24 to its stable repos and looks promising. I am eagerly waiting for it in Arch (EndeavourOS).
Well, it is not available as of today, February 19th in the testing repository… It is a little long, now!
And it's still not available…
Where is mate 1.24?

Nowhere as of today, February 24th 2020.
I don't even see it in the link in Arch?