That's what I will be for the next few days. But in my case it will be spelled Schnapps!
It might drown like a duck: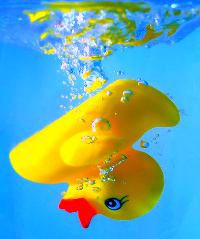 I agree with @Kresimir, though:
I left Manjaro and came to EndeavourOS when it became clear to me that the direction Manjaro was taking was no longer consistent with my values. Yet, a Flatpak-focused version doesn't really bother me very much. Like a duck, the project might swim or it might drown, but I welcome experimentation; and I hope that Manjaro continues to innovate, even if the product of their experimentation might not be something I would personally want to use.
You're right. I paid $1, used it for 2 days before I discovered enos, and here I am
I also had to witness all this at the time (at least within the forum) keyword laptop and donation use …
What's this paying thing about? I've never seen anything about payment on their website when downloading ISOs.
Weren't they talking about ElementaryOS at that point?
Yup. And it's not even "pay what you want", it's "pay what you can", which is an even worse guilt trip…

Looking again now, it's even literally "purchase elementary OS"* which would usually clearly indicate a commercial product.
* even when you click in the custom box, only when you type 0 does it switch to "download". I don't like it. If it's commercial then you should provide support.
woe, I missed that turn

Yeah, that's normally expected from commercial software. However, it is up to the paying customers to decide whether they want to purchase the product despite the lack of promise of support. More importantly, people who are providing tech support for free on their forum presumably do not mind being used in this way. I, however, would think twice before doing so…
In the end, it's a matter of semantics. If they only changed "Purchase" to "Donate", I would see no issue here. I do think it is important to call things by their proper names.
Great way to shrink your user base.
But they mostly been increasing their user base lately.
Their Appcenter is also working "pay as you wish" model.
Yeah, I think again people need to stop thinking of Manjaro as an "Arch based distro" and more like Ubuntu or Fedora. I have argued for years that Manjaro is the Arch equivalent of Ubuntu (aka "Debian based" but not really), and that is how it should be viewed, that's the userbase they target, and they are apparently successfull.
Also for what it is worth, if I was going to go "flatpak based" I would do this, because quite frankly I have such bad luck with all non-arch based distros, even Fedora (which I have a huge soft spot for). Be it Pop, or Ubuntu, or Fedora or Suse… They will break within a month for me. Arch based (including Manjaro)? No, not really.
I think that at the point distro-maintainers start forcing immutable OS's as their default, they should really consider pooling resources with other distros that want to do the same. Then they can just make SnapOS & FlatpakOS, because from the end user's point of view, there's no difference between them anymore, except for maybe the wallpapers and themes they ship with. At that point, I'd pick Fedora over Ubuntu, because I prefer blue to orange.
The difference is the freshness of the base packages.
Which Manjaro theoretically would be the freshest, Fedora a close second, Ubuntu way behind.
That's the only difference; how fresh do you want your driver and firmware packages etc.
SchnapsOS sounds cool. Can only be operated above a certain level.
Above a certain blood alcohol level?