For a larger upgrade, I usually download 1.1 GB.
yay -Qe | wc -l
704

yay -Q | wc -l
2593

I guess some people might call it bloat.
But not so much fun for @Tasia91
Now that I have downloaded this and seen it, I realized I have tried it before. It was just quite some time ago.
It is a privacy focused distro on stick. The primary issue with it is that, as you mentioned, it hasn't been maintained and since there is no longer a way to update it, you would be better off running something else than using a browser based on Firefox 52.

That aside, the aesthetics are…troubling.

I understand and agree with your review, Thank you for taking the time to try it again!
I have 4 terminals lol
Alacritty
Gnome
Terminator
Guake
On my Arch/Cinnamon, but on EOS/Xfce just the default(for now)

EOS Xfce terminal is great, maybe it will be my 6th terminal now when I think about it
[mr_ecks@MrEcks ~]$ yay -Qe | wc -l
248
[mr_ecks@MrEcks ~]$ yay -Q | wc -l
1149
Slightly bloated.
 ~ ➤<((("> yay -Qe | wc -l
164
 ~ ➤<((("> yay -Q | wc -l
756

But then I started with a VERY bare (almost everything unchecked) Netinstall, and added packages as I needed them.
Hmm…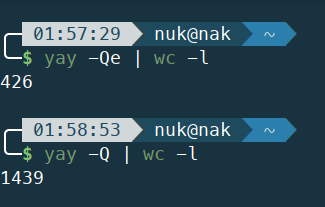 Still not bloated, just big boned

Seriously, I can't find anything that I can remove from my list of apps. I need each and every one of them, so there's no bloat, just useful stuff.
Anyway I can't say there is any performance hit caused by having this many packages. I am careful what apps launch at system start-up and remove any that don't really have to be there.
I'm at 405 and 1343, personally. This is my very first install and still in a vm, so I'm doing a lot of testing/tweaking/adjusting. I'd like to think when I pull the win10 plug and do a full install it will be a little more trimmed down. For reference, I have manjaro in a vm as well and it is showing 307 and 1148, but I have done most of my testing in the EOS vm. The manjaro one I've just been messing around with, but I see no reason to use it for the full install I'm planning down the road.
Sorry for the Necro, but I wanted to start a somewhat same thread so instead decided to respond here.
On main system:
~ > yay -Qe | wc -l
192
~ > yay -Q | wc -l
954

On laptop:
~ > yay -Qe | wc -l
185
~ > yay -Q | wc -l
946

Personally I tend to try and stay below the 1000 mark.
Unfortunately I am almost there…
I'm at 808 on this Arch/Xfce install.
I think it has been shown that any package count that significantly exceeds your own == bloated! I keep an eye out for it - but it makes no decisions for me…
For instance - on one build I have the Gambas (VB style) programming environment - and even updates for that exceed 80-odd packages. I often run KolourPaint (though not KDE) and that pulls in a pile of k-packages. Just run what you want, and dump stuff you don't end up using once in a while, (and clean your cache and orphans) - and magically your system will be bloat-free!
yay -Q | wc -l
1036
… despite deliberately keeping as lean and clean a [Mate] system as possible, and no kde or qt. Only install what use. 36 packages are from the AUR.
Managed to reduce the amount:
DESKTOP
~ > yay -Qe | wc -l
156
~ > yay -Q | wc -l
909

LAPTOP
~ > yay -Qe | wc -l
150
~ > yay -Q | wc -l
885