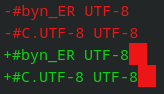 What does this mean??
It's summed up best here btw,
It means the top two lines are not present in one file, and the bottom two lines are present in the other.
it's a full on double pacman all the way across the sky! what does this mean?!

Are you using Endeavour? Use the pacnew tool in the welcome app.
Since you use Arch BTW, as your name suggests, then I'd assume you already know what pacnew files are.
You could use eos-pacdiff to see the diffs and also merge important changes.
(It's the same as @fbodymechanic recommended.)
But a word of warning: do not change certain files like /etc/passwd, /etc/group, /etc/shadow. If you are not sure what to do with a particular file, don't change it but ask here first.
Getting this in before closing time

We all know why