Good morning,
I'm having this problem for as long as I can remember, and I can work around it, but it always leads to certain strange phenomena, and I'd like to know what I am doing wrong, or which piece of software is in error.
My setup: KDE Plasma with 2 monitors of the same type, iyama G-Master GB2788HS, connected to two Displayports on an NVidia Geforce 3070. The problem exists in the multi monitor space.
When I open the display settings in the plasma options, it presents itself this way: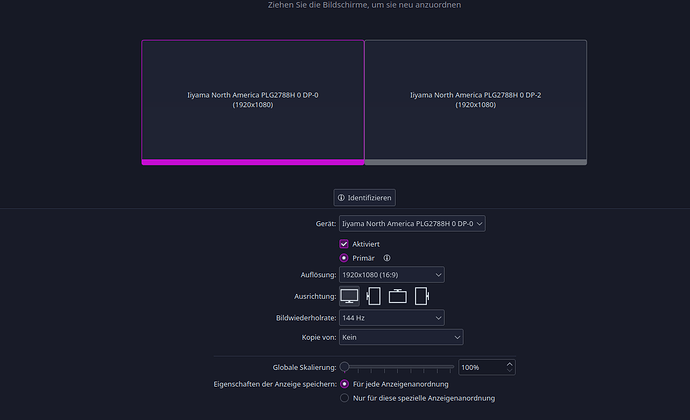 You can see both monitors, and to keep them apart the settings calls the two monitors DP-0 and DP-2 (probably Displayport 0 and 2). Just to clarify, my card has no other Displayports, the only other connector is an HDMI which has no monitor attached.
Using the button "Identify" (Identifizieren in my german language), it displays the names of the two monitors as an overlay. And here the problem shows itself: Although the left monitor is "Primary" (Primär) and has the bottom KDE bar, the identification specifies that the left monitor is DP-2, while in the displays in the settings it is DP-0. So somehow there's a disconnect between what the detection of the displays says and what I can see from the connections and the graphical display in the settings.
This leads to strange things: No matter how I connect the two monitors to the graphics card, whenever I configure Plasma so that the left monitor has the bottom bar and the mouse and display extend to the right monitor, the - lets say default - display seems to be always the right. When I boot, everything always starts on the right monitor, while the left monitor is Primary (as in the settings), all the games start on the right monitor.
I can switch the connection to the graphics card around, then configure it again so that the left monitor is Primary, extends to the right, and the problem stays the same.