Has anyone experienced something like this?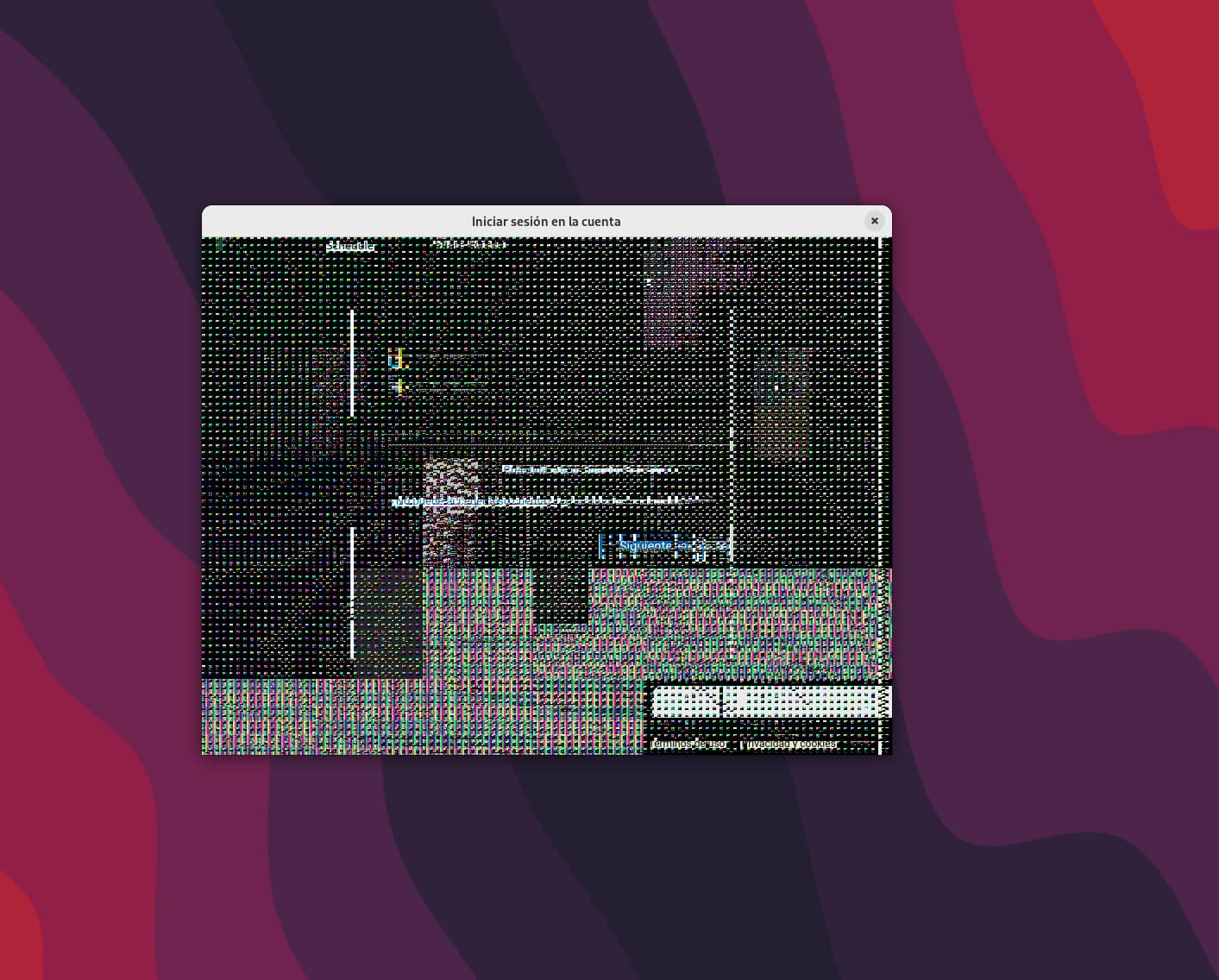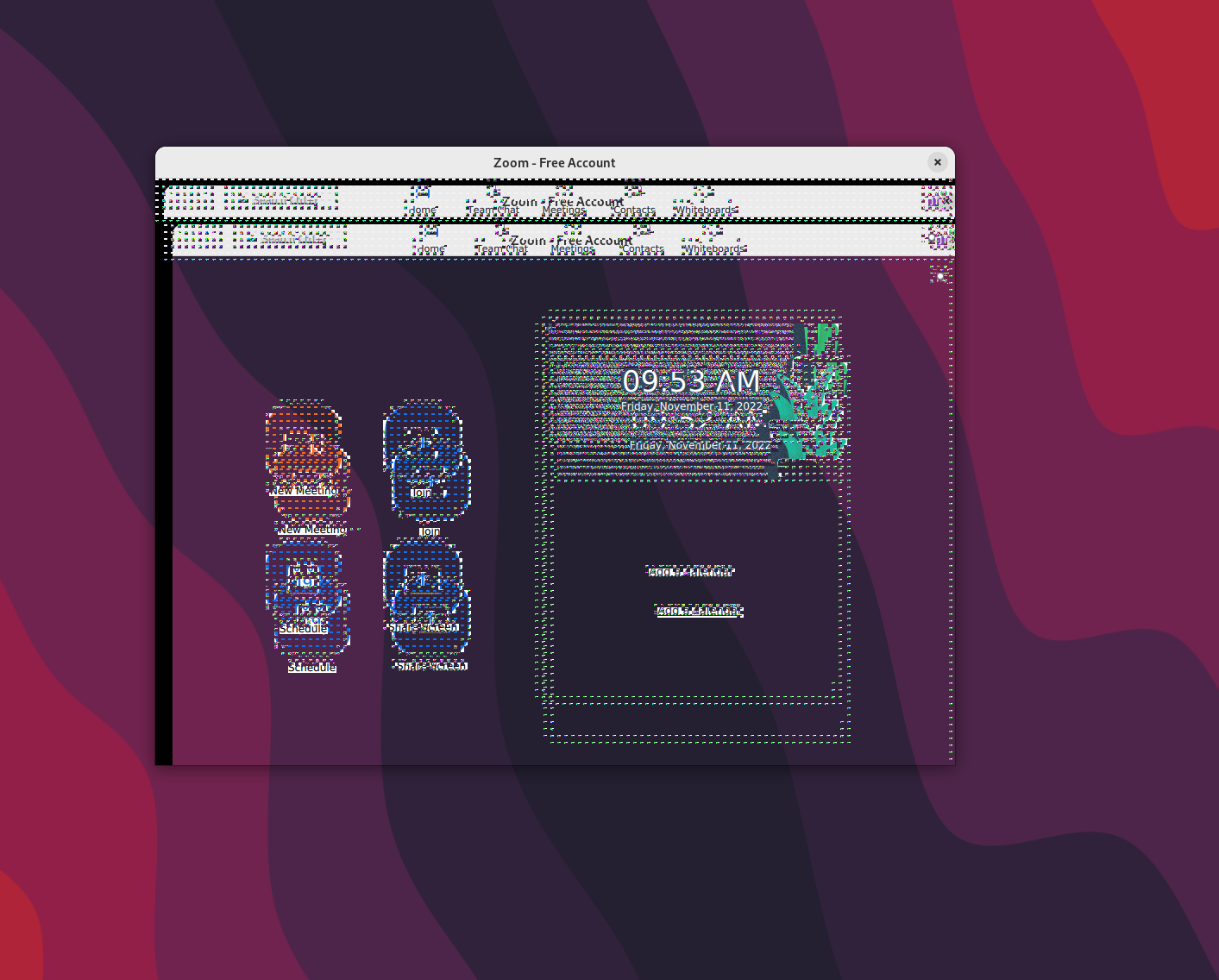 It happened after the last update a couple of days ago, and only seems to affect the Flatpak versions of Zoom, Teams and degoogled-chromium. The AUR packages of those apps don't show this issue.
This happened on a Wayland session, but, to my surprise, after switching to a X11 session these apps still showed the same issue.
The system is up to date, with GNOME 43.1 and Mesa 22.2.3 (updated from 22.2.1 in the last update). I have an AMD GPU. There are other Mesa-related packages in flatpak:
Mesa	org.freedesktop.Platform.GL.default	21.3.9	21.08	system
Mesa	org.freedesktop.Platform.GL.default	22.1.7	22.08	system
Mesa	org.freedesktop.Platform.GL32.default	22.1.7	22.08	system

This is the full list of flatpak packages

Dialect	app.drey.Dialect	2.1.1	stable	system
Ear Tag	app.drey.EarTag	0.2.1	stable	system
AnyDesk	com.anydesk.Anydesk	6.1.1	stable	system
Authenticador	com.belmoussaoui.Authenticator	4.1.6	stable	system
Eyedropper	com.github.finefindus.eyedropper	0.4.0	stable	system
Wike	com.github.hugolabe.Wike	1.8.2	stable	system
Curtail	com.github.huluti.Curtail	1.3.1	stable	system
Foliate	com.github.johnfactotum.Foliate	2.6.4	stable	system
Text Pieces	com.github.liferooter.textpieces	3.3.1	stable	system
Frog	com.github.tenderowl.frog	1.2.0	stable	system
Descargador de vídeo	com.github.unrud.VideoDownloader	0.10.10	stable	system
NewsFlash	com.gitlab.newsflash	2.1.4	stable	system
Gestor de extensiones	com.mattjakeman.ExtensionManager	0.4.0	stable	system
OBS Studio	com.obsproject.Studio	28.1.2	stable	system
Black Box	com.raggesilver.BlackBox	0.12.1	stable	system
RawTherapee	com.rawtherapee.RawTherapee	5.8	stable	system
Bottles	com.usebottles.bottles	2022.10.14.1	stable	system
Fragmentos	de.haeckerfelix.Fragments	2.0.2	stable	system
Amberol	io.bassi.Amberol	0.9.1	stable	system
FSearch	io.github.cboxdoerfer.FSearch	0.2.2	stable	system
Kooha	io.github.seadve.Kooha	2.2.2	stable	system
Mousai	io.github.seadve.Mousai	0.6.6	stable	system
Selector de color	nl.hjdskes.gcolor3	2.4.0	stable	system
Audacity	org.audacityteam.Audacity	3.2.0	stable	system
Codecs	org.audacityteam.Audacity.Codecs		stable	system
Freedesktop Platform	org.freedesktop.Platform	21.08.16	21.08	system
Mesa	org.freedesktop.Platform.GL.default	21.3.9	21.08	system
Mesa	org.freedesktop.Platform.GL.default	22.1.7	22.08	system
Mesa	org.freedesktop.Platform.GL32.default	22.1.7	22.08	system
ffmpeg-full	org.freedesktop.Platform.ffmpeg-full		21.08	system
ffmpeg-full	org.freedesktop.Platform.ffmpeg-full		22.08	system
openh264	org.freedesktop.Platform.openh264	2.1.0	2.0	system
openh264	org.freedesktop.Platform.openh264	2.1.0	2.2.0	system
Caracteres	org.gnome.Characters	43.0	stable	system
Gestor tipográfico	org.gnome.FontManager	0.8.8	stable	system
Editor de traducciones	org.gnome.Gtranslator	42.0	stable	system
GNOME Application Platform version 42	org.gnome.Platform		42	system
GNOME Application Platform version 43	org.gnome.Platform		43	system
i386	org.gnome.Platform.Compat.i386		43	system
Editor de texto	org.gnome.TextEditor	43.1	stable	system
Copia de respaldo Pika	org.gnome.World.PikaBackup	0.4.2	stable	system
Contraste	org.gnome.design.Contrast	0.0.5	stable	system
Tipografías	org.gnome.font-viewer	43.0	stable	system
Recortador de vídeo	org.gnome.gitlab.YaLTeR.VideoTrimmer	0.8.0	stable	system
Apostrophe	org.gnome.gitlab.somas.Apostrophe	2.6.3	stable	system
adw-gtk3 Gtk Theme	org.gtk.Gtk3theme.adw-gtk3		3.22	system
Descargador de Tipografías	org.gustavoperedo.FontDownloader	8.0.0	stable	system
KDE Application Platform	org.kde.Platform		5.15-21.08	system
KDE Application Platform	org.kde.Platform		6.3	system
QGnomePlatform	org.kde.PlatformTheme.QGnomePlatform		5.15-21.08	system
QGnomePlatform	org.kde.PlatformTheme.QGnomePlatform		6.3	system
QtSNI	org.kde.PlatformTheme.QtSNI		5.15-21.08	system
QGnomePlatform-decoration	org.kde.WaylandDecoration.QGnomePlatform-decoration		5.15-21.08	system
QGnomePlatform-decoration	org.kde.WaylandDecoration.QGnomePlatform-decoration		6.3	system
Tagger	org.nickvision.tagger	2022.11.0	stable	system
QGIS Desktop	org.qgis.qgis	3.28.0	stable	system
DXVK	org.winehq.Wine.DLLs.dxvk	1.10.3	stable-22.08	system
Gecko	org.winehq.Wine.gecko		stable-22.08	system
Mono	org.winehq.Wine.mono		stable-22.08	system
Aleatorio	page.codeberg.foreverxml.Random	1.2	stable	system
Junction	re.sonny.Junction	1.6	stable	system