sometimes when I shutdown my system, the following message appears and I have to do a force shut down whenever this happens.
The below provided image is took with the mobile, so it is not that clear, this is the image i got after taking 50 of those images. please if it is not clear i can provide another.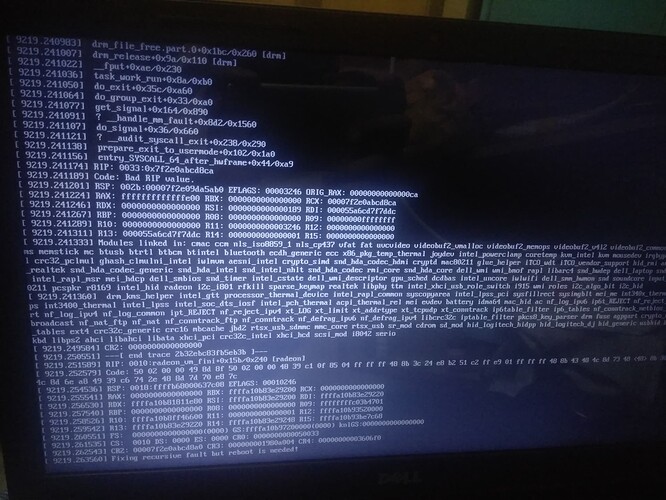 and another in case… the above is not clear.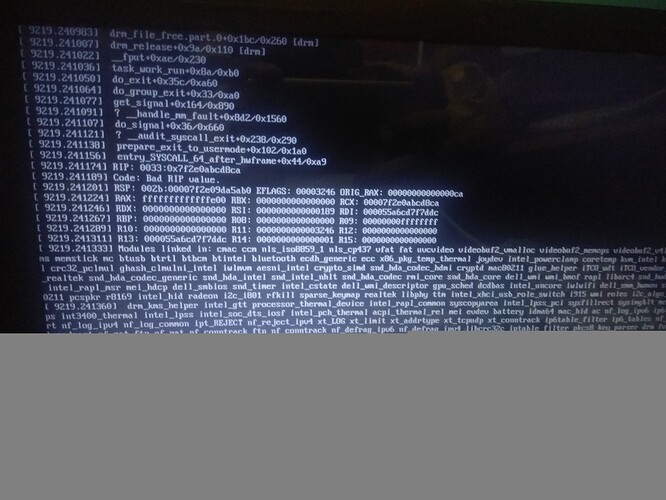 This problem is occuring more frequently after subsequent shutdowns.
System info:
System:    Kernel: 5.4.141-1-lts54 x86_64 bits: 64 compiler: gcc v: 11.1.0 
           parameters: BOOT_IMAGE=/boot/vmlinuz-linux-lts54 root=UUID=6b827258-6457-4cf2-97f4-5adbef9e8bf8 rw quiet loglevel=3 
           nowatchdog 
           Desktop: KDE Plasma 5.22.4 tk: Qt 5.15.2 wm: kwin_x11 vt: 1 dm: SDDM Distro: EndeavourOS base: Arch Linux 
Machine:   Type: Laptop System: Dell product: Inspiron 15-3567 v: N/A serial: <filter> Chassis: type: 9 serial: <filter> 
           Mobo: Dell model: 0D53F5 v: A00 serial: <filter> UEFI: Dell v: 2.14.0 date: 01/13/2021 
Battery:   ID-1: BAT0 charge: 40.0 Wh (100.0%) condition: 40.0/41.4 Wh (96.4%) volts: 16.7 min: 14.8 
           model: LGC-LGC2.80 DELL 7PY0D0A type: Li-ion serial: <filter> status: Full 
CPU:       Info: Dual Core model: Intel Core i5-7200U bits: 64 type: MT MCP arch: Amber/Kaby Lake note: check family: 6 
           model-id: 8E (142) stepping: 9 microcode: EA cache: L2: 3 MiB 
           flags: avx avx2 lm nx pae sse sse2 sse3 sse4_1 sse4_2 ssse3 vmx bogomips: 21599 
           Speed: 2500 MHz min/max: 400/2500 MHz Core speeds (MHz): 1: 2500 2: 2500 3: 2500 4: 2500 
           Vulnerabilities: Type: itlb_multihit status: KVM: Split huge pages 
           Type: l1tf mitigation: PTE Inversion; VMX: conditional cache flushes, SMT vulnerable 
           Type: mds mitigation: Clear CPU buffers; SMT vulnerable 
           Type: meltdown mitigation: PTI 
           Type: spec_store_bypass mitigation: Speculative Store Bypass disabled via prctl and seccomp 
           Type: spectre_v1 mitigation: usercopy/swapgs barriers and __user pointer sanitization 
           Type: spectre_v2 mitigation: Full generic retpoline, IBPB: conditional, IBRS_FW, STIBP: conditional, RSB filling 
           Type: srbds mitigation: Microcode 
           Type: tsx_async_abort status: Not affected 
Graphics:  Device-1: Intel HD Graphics 620 vendor: Dell driver: i915 v: kernel bus-ID: 00:02.0 chip-ID: 8086:5916 
           class-ID: 0300 
           Device-2: AMD Sun XT [Radeon HD 8670A/8670M/8690M / R5 M330 / M430 / Radeon 520 Mobile] vendor: Dell driver: radeon 
           v: kernel alternate: amdgpu bus-ID: 01:00.0 chip-ID: 1002:6660 class-ID: 0380 
           Device-3: Realtek Integrated_Webcam_HD type: USB driver: uvcvideo bus-ID: 1-5:3 chip-ID: 0bda:5769 class-ID: 0e02 
           serial: <filter> 
           Display: x11 server: X.org 1.20.13 compositor: kwin_x11 driver: loaded: intel,modesetting unloaded: fbdev,vesa 
           resolution: <missing: xdpyinfo> 
           OpenGL: renderer: Mesa Intel HD Graphics 620 (KBL GT2) v: 4.6 Mesa 21.1.6 direct render: Yes 
Audio:     Device-1: Intel Sunrise Point-LP HD Audio vendor: Dell driver: snd_hda_intel v: kernel bus-ID: 00:1f.3 
           chip-ID: 8086:9d71 class-ID: 0403 
           Sound Server-1: ALSA v: k5.4.141-1-lts54 running: yes 
           Sound Server-2: JACK v: 1.9.19 running: no 
           Sound Server-3: PulseAudio v: 15.0 running: yes 
           Sound Server-4: PipeWire v: 0.3.33 running: no 
Network:   Device-1: Intel Wireless 3165 driver: iwlwifi v: kernel port: e000 bus-ID: 02:00.0 chip-ID: 8086:3165 
           class-ID: 0280 
           IF: wlan0 state: up mac: <filter> 
           Device-2: Realtek RTL810xE PCI Express Fast Ethernet vendor: Dell driver: r8169 v: kernel port: d000 
           bus-ID: 03:00.0 chip-ID: 10ec:8136 class-ID: 0200 
           IF: enp3s0 state: down mac: <filter> 
Bluetooth: Device-1: Intel Bluetooth wireless interface type: USB driver: btusb v: 0.8 bus-ID: 1-8:5 chip-ID: 8087:0a2a 
           class-ID: e001 
           Report: rfkill ID: hci0 rfk-id: 1 state: down bt-service: disabled rfk-block: hardware: no software: no 
           address: see --recommends 
Drives:    Local Storage: total: 931.51 GiB used: 143.43 GiB (15.4%) 
           SMART Message: Unable to run smartctl. Root privileges required. 
           ID-1: /dev/sda maj-min: 8:0 vendor: Seagate model: ST1000LM035-1RK172 size: 931.51 GiB block-size: physical: 4096 B 
           logical: 512 B speed: 6.0 Gb/s rotation: 5400 rpm serial: <filter> rev: SDM3 scheme: GPT 
Partition: ID-1: / raw-size: 100.01 GiB size: 97.88 GiB (97.87%) used: 7.56 GiB (7.7%) fs: ext4 dev: /dev/sda1 maj-min: 8:1 
           ID-2: /boot/efi raw-size: 200 MiB size: 196.9 MiB (98.44%) used: 282 KiB (0.1%) fs: vfat dev: /dev/sda2 
           maj-min: 8:2 
           ID-3: /home raw-size: 831.3 GiB size: 817.18 GiB (98.30%) used: 135.87 GiB (16.6%) fs: ext4 dev: /dev/sda3 
           maj-min: 8:3 
Swap:      Alert: No swap data was found. 
Sensors:   System Temperatures: cpu: 52.0 C mobo: 49.0 C gpu: radeon temp: 48.0 C 
           Fan Speeds (RPM): cpu: 0 
Info:      Processes: 159 Uptime: 13m wakeups: 1 Memory: 7.65 GiB used: 2.12 GiB (27.8%) Init: systemd v: 249 tool: systemctl 
           Compilers: gcc: 11.1.0 Packages: pacman: 1080 lib: 302 Shell: Bash v: 5.1.8 running-in: konsole inxi: 3.3.05 

journalctl outputs:
-- Journal begins at Wed 2021-08-18 21:12:31 IST, ends at Wed 2021-08-18 21:28:03 IST. --
Aug 18 21:12:31 AZKABAN kernel: microcode: microcode updated early to revision 0xea, date = 2021-01-05
Aug 18 21:12:31 AZKABAN kernel: Linux version 5.4.141-1-lts54 (linux-lts54@archlinux) (gcc version 11.1.0 (GCC)) #1 SMP Tue, 17 Aug 2021 07:30:50 +0000
Aug 18 21:12:31 AZKABAN kernel: Command line: BOOT_IMAGE=/boot/vmlinuz-linux-lts54 root=UUID=6b827258-6457-4cf2-97f4-5adbef9e8bf8 rw quiet loglevel=3 nowatchdog
Aug 18 21:12:31 AZKABAN kernel: KERNEL supported cpus:
Aug 18 21:12:31 AZKABAN kernel:   Intel GenuineIntel
Aug 18 21:12:31 AZKABAN kernel:   AMD AuthenticAMD
Aug 18 21:12:31 AZKABAN kernel:   Hygon HygonGenuine
Aug 18 21:12:31 AZKABAN kernel:   Centaur CentaurHauls
Aug 18 21:12:31 AZKABAN kernel:   zhaoxin   Shanghai  
Aug 18 21:12:31 AZKABAN kernel: x86/fpu: Supporting XSAVE feature 0x001: 'x87 floating point registers'
Aug 18 21:12:31 AZKABAN kernel: x86/fpu: Supporting XSAVE feature 0x002: 'SSE registers'
Aug 18 21:12:31 AZKABAN kernel: x86/fpu: Supporting XSAVE feature 0x004: 'AVX registers'
Aug 18 21:12:31 AZKABAN kernel: x86/fpu: Supporting XSAVE feature 0x008: 'MPX bounds registers'
Aug 18 21:12:31 AZKABAN kernel: x86/fpu: Supporting XSAVE feature 0x010: 'MPX CSR'
Aug 18 21:12:31 AZKABAN kernel: x86/fpu: xstate_offset[2]:  576, xstate_sizes[2]:  256
Aug 18 21:12:31 AZKABAN kernel: x86/fpu: xstate_offset[3]:  832, xstate_sizes[3]:   64
Aug 18 21:12:31 AZKABAN kernel: x86/fpu: xstate_offset[4]:  896, xstate_sizes[4]:   64
Aug 18 21:12:31 AZKABAN kernel: x86/fpu: Enabled xstate features 0x1f, context size is 960 bytes, using 'compacted' format.
Aug 18 21:12:31 AZKABAN kernel: BIOS-provided physical RAM map:
Aug 18 21:12:31 AZKABAN kernel: BIOS-e820: [mem 0x0000000000000000-0x0000000000057fff] usable
Aug 18 21:12:31 AZKABAN kernel: BIOS-e820: [mem 0x0000000000058000-0x0000000000058fff] reserved
Aug 18 21:12:31 AZKABAN kernel: BIOS-e820: [mem 0x0000000000059000-0x000000000009efff] usable
Aug 18 21:12:31 AZKABAN kernel: BIOS-e820: [mem 0x000000000009f000-0x00000000000fffff] reserved
Aug 18 21:12:31 AZKABAN kernel: BIOS-e820: [mem 0x0000000000100000-0x000000009210ffff] usable
Aug 18 21:12:31 AZKABAN kernel: BIOS-e820: [mem 0x0000000092110000-0x0000000092110fff] ACPI NVS
Aug 18 21:12:31 AZKABAN kernel: BIOS-e820: [mem 0x0000000092111000-0x0000000092111fff] reserved
Aug 18 21:12:31 AZKABAN kernel: BIOS-e820: [mem 0x0000000092112000-0x0000000098234fff] usable
Aug 18 21:12:31 AZKABAN kernel: BIOS-e820: [mem 0x0000000098235000-0x00000000985aafff] reserved
Aug 18 21:12:31 AZKABAN kernel: BIOS-e820: [mem 0x00000000985ab000-0x00000000985e4fff] ACPI data
Aug 18 21:12:31 AZKABAN kernel: BIOS-e820: [mem 0x00000000985e5000-0x0000000098ef4fff] ACPI NVS
Aug 18 21:12:31 AZKABAN kernel: BIOS-e820: [mem 0x0000000098ef5000-0x0000000099523fff] reserved
Aug 18 21:12:31 AZKABAN kernel: BIOS-e820: [mem 0x0000000099524000-0x00000000995fdfff] type 20
Aug 18 21:12:31 AZKABAN kernel: BIOS-e820: [mem 0x00000000995fe000-0x00000000995fefff] usable
Aug 18 21:12:31 AZKABAN kernel: BIOS-e820: [mem 0x00000000995ff000-0x000000009f7fffff] reserved
Aug 18 21:12:31 AZKABAN kernel: BIOS-e820: [mem 0x00000000e0000000-0x00000000efffffff] reserved
Aug 18 21:12:31 AZKABAN kernel: BIOS-e820: [mem 0x00000000fe000000-0x00000000fe010fff] reserved
Aug 18 21:12:31 AZKABAN kernel: BIOS-e820: [mem 0x00000000fec00000-0x00000000fec00fff] reserved
Aug 18 21:12:31 AZKABAN kernel: BIOS-e820: [mem 0x00000000fee00000-0x00000000fee00fff] reserved
Aug 18 21:12:31 AZKABAN kernel: BIOS-e820: [mem 0x00000000ff000000-0x00000000ffffffff] reserved
Aug 18 21:12:31 AZKABAN kernel: BIOS-e820: [mem 0x0000000100000000-0x000000025f7fffff] usable
Aug 18 21:12:31 AZKABAN kernel: NX (Execute Disable) protection: active
Aug 18 21:12:31 AZKABAN kernel: efi: EFI v2.40 by American Megatrends
Aug 18 21:12:31 AZKABAN kernel: efi:  ACPI=0x985b6000  ACPI 2.0=0x985b6000  SMBIOS=0xf05e0  SMBIOS 3.0=0xf0600  ESRT=0x9928d698  MPS=0xfcb50 
Aug 18 21:12:31 AZKABAN kernel: SMBIOS 3.1.1 present.
Aug 18 21:12:31 AZKABAN kernel: DMI: Dell Inc. Inspiron 15-3567/0D53F5, BIOS 2.14.0 01/13/2021
Aug 18 21:12:31 AZKABAN kernel: tsc: Detected 2700.000 MHz processor
Aug 18 21:12:31 AZKABAN kernel: tsc: Detected 2699.909 MHz TSC
Aug 18 21:12:31 AZKABAN kernel: e820: update [mem 0x00000000-0x00000fff] usable ==> reserved
Aug 18 21:12:31 AZKABAN kernel: e820: remove [mem 0x000a0000-0x000fffff] usable
Aug 18 21:12:31 AZKABAN kernel: last_pfn = 0x25f800 max_arch_pfn = 0x400000000
Aug 18 21:12:31 AZKABAN kernel: MTRR default type: write-back
Aug 18 21:12:31 AZKABAN kernel: MTRR fixed ranges enabled:
Aug 18 21:12:31 AZKABAN kernel:   00000-9FFFF write-back
Aug 18 21:12:31 AZKABAN kernel:   A0000-BFFFF uncachable
Aug 18 21:12:31 AZKABAN kernel:   C0000-FFFFF write-protect
Aug 18 21:12:31 AZKABAN kernel: MTRR variable ranges enabled:
Aug 18 21:12:31 AZKABAN kernel:   0 base 00C0000000 mask 7FC0000000 uncachable
Aug 18 21:12:31 AZKABAN kernel:   1 base 00A0000000 mask 7FE0000000 uncachable
Aug 18 21:12:31 AZKABAN kernel:   2 base 009C000000 mask 7FFC000000 uncachable
Aug 18 21:12:31 AZKABAN kernel:   3 base 009B000000 mask 7FFF000000 uncachable
Aug 18 21:12:31 AZKABAN kernel:   4 disabled
Aug 18 21:12:31 AZKABAN kernel:   5 disabled
Aug 18 21:12:31 AZKABAN kernel:   6 disabled
Aug 18 21:12:31 AZKABAN kernel:   7 disabled
Aug 18 21:12:31 AZKABAN kernel:   8 disabled
Aug 18 21:12:31 AZKABAN kernel:   9 disabled
Aug 18 21:12:31 AZKABAN kernel: x86/PAT: Configuration [0-7]: WB  WC  UC- UC  WB  WP  UC- WT  
Aug 18 21:12:31 AZKABAN kernel: last_pfn = 0x995ff max_arch_pfn = 0x400000000
Aug 18 21:12:31 AZKABAN kernel: found SMP MP-table at [mem 0x000fcd90-0x000fcd9f]
Aug 18 21:12:31 AZKABAN kernel: esrt: Reserving ESRT space from 0x000000009928d698 to 0x000000009928d6d0.
Aug 18 21:12:31 AZKABAN kernel: check: Scanning 1 areas for low memory corruption
Aug 18 21:12:31 AZKABAN kernel: Using GB pages for direct mapping
Aug 18 21:12:31 AZKABAN kernel: Secure boot disabled
Aug 18 21:12:31 AZKABAN kernel: RAMDISK: [mem 0x36aa9000-0x3754bfff]
Aug 18 21:12:31 AZKABAN kernel: ACPI: Early table checksum verification disabled
Aug 18 21:12:31 AZKABAN kernel: ACPI: RSDP 0x00000000985B6000 000024 (v02 DELL  )
Aug 18 21:12:31 AZKABAN kernel: ACPI: XSDT 0x00000000985B60B8 0000F4 (v01 DELL   CBX3     01072009 AMI  00010013)
Aug 18 21:12:31 AZKABAN kernel: ACPI: FACP 0x00000000985DA4F8 00010C (v05 DELL   CBX3     01072009 AMI  00010013)
Aug 18 21:12:31 AZKABAN kernel: ACPI: DSDT 0x00000000985B6240 0242B5 (v02 DELL   CBX3     01072009 INTL 20160422)
Aug 18 21:12:31 AZKABAN kernel: ACPI: FACS 0x0000000098EF2180 000040
Aug 18 21:12:31 AZKABAN kernel: ACPI: APIC 0x00000000985DA608 000084 (v03 DELL   CBX3     01072009 AMI  00010013)
Aug 18 21:12:31 AZKABAN kernel: ACPI: FPDT 0x00000000985DA690 000044 (v01 DELL   CBX3     01072009 AMI  00010013)
Aug 18 21:12:31 AZKABAN kernel: ACPI: FIDT 0x00000000985DA6D8 0000AC (v01 DELL   CBX3     01072009 AMI  00010013)
Aug 18 21:12:31 AZKABAN kernel: ACPI: MCFG 0x00000000985DA788 00003C (v01 DELL   CBX3     01072009 MSFT 00000097)
Aug 18 21:12:31 AZKABAN kernel: ACPI: HPET 0x00000000985DA7C8 000038 (v01 DELL   CBX3     01072009 AMI. 0005000B)
Aug 18 21:12:31 AZKABAN kernel: ACPI: SSDT 0x00000000985DA800 000359 (v01 SataRe SataTabl 00001000 INTL 20160422)
Aug 18 21:12:31 AZKABAN kernel: ACPI: BOOT 0x00000000985DAB60 000028 (v01 DELL   CBX3     01072009 AMI  00010013)
Aug 18 21:12:31 AZKABAN kernel: ACPI: SSDT 0x00000000985DAB88 0012EA (v02 SaSsdt SaSsdt   00003000 INTL 20160422)
Aug 18 21:12:31 AZKABAN kernel: ACPI: HPET 0x00000000985DBE78 000038 (v01 INTEL  KBL-ULT  00000001 MSFT 0000005F)
Aug 18 21:12:31 AZKABAN kernel: ACPI: SSDT 0x00000000985DBEB0 000A34 (v02 INTEL  xh_OEMBD 00000000 INTL 20160422)
Aug 18 21:12:31 AZKABAN kernel: ACPI: UEFI 0x00000000985DC8E8 000042 (v01                 00000000      00000000)
Aug 18 21:12:31 AZKABAN kernel: ACPI: SSDT 0x00000000985DC930 000EDE (v02 CpuRef CpuSsdt  00003000 INTL 20160422)
Aug 18 21:12:31 AZKABAN kernel: ACPI: LPIT 0x00000000985DD810 000094 (v01 INTEL  KBL-ULT  00000000 MSFT 0000005F)
Aug 18 21:12:31 AZKABAN kernel: ACPI: WSMT 0x00000000985DD8A8 000028 (v01 INTEL  KBL-ULT  00000000 MSFT 0000005F)
Aug 18 21:12:31 AZKABAN kernel: ACPI: SSDT 0x00000000985DD8D0 00029F (v02 INTEL  sensrhub 00000000 INTL 20160422)
Aug 18 21:12:31 AZKABAN kernel: ACPI: SSDT 0x00000000985DDB70 000E3F (v02 INTEL  PtidDevc 00001000 INTL 20160422)
Aug 18 21:12:31 AZKABAN kernel: ACPI: DBGP 0x00000000985DE9B0 000034 (v01 INTEL           00000002 MSFT 0000005F)
Aug 18 21:12:31 AZKABAN kernel: ACPI: DBG2 0x00000000985DE9E8 000061 (v00 INTEL           00000002 MSFT 0000005F)
Aug 18 21:12:31 AZKABAN kernel: ACPI: SSDT 0x00000000985DEA50 003EA6 (v02 DptfTa DptfTabl 00001000 INTL 20160422)
Aug 18 21:12:31 AZKABAN kernel: ACPI: SLIC 0x00000000985E28F8 000176 (v03 DELL   CBX3     01072009 MSFT 00010013)
Aug 18 21:12:31 AZKABAN kernel: ACPI: SSDT 0x00000000985E2A70 00069A (v02 SgRef  SgPch    00001000 INTL 20160422)
Aug 18 21:12:31 AZKABAN kernel: ACPI: SSDT 0x00000000985E3110 000281 (v02 SgRef  SgUlx    00001000 INTL 20160422)
Aug 18 21:12:31 AZKABAN kernel: ACPI: DMAR 0x00000000985E3398 0000F0 (v01 INTEL  EDK2     00000001 INTL 00000001)
Aug 18 21:12:31 AZKABAN kernel: ACPI: SSDT 0x00000000985E3488 000F46 (v01 AmdRef AmdTabl  00001000 INTL 20160422)
Aug 18 21:12:31 AZKABAN kernel: [81B blob data]
Aug 18 21:12:31 AZKABAN kernel: ACPI: Reserving FACP table memory at [mem 0x985da4f8-0x985da603]
Aug 18 21:12:31 AZKABAN kernel: ACPI: Reserving DSDT table memory at [mem 0x985b6240-0x985da4f4]
Aug 18 21:12:31 AZKABAN kernel: ACPI: Reserving FACS table memory at [mem 0x98ef2180-0x98ef21bf]
Aug 18 21:12:31 AZKABAN kernel: ACPI: Reserving APIC table memory at [mem 0x985da608-0x985da68b]
Aug 18 21:12:31 AZKABAN kernel: ACPI: Reserving FPDT table memory at [mem 0x985da690-0x985da6d3]
Aug 18 21:12:31 AZKABAN kernel: ACPI: Reserving FIDT table memory at [mem 0x985da6d8-0x985da783]
Aug 18 21:12:31 AZKABAN kernel: ACPI: Reserving MCFG table memory at [mem 0x985da788-0x985da7c3]
Aug 18 21:12:31 AZKABAN kernel: ACPI: Reserving HPET table memory at [mem 0x985da7c8-0x985da7ff]
Aug 18 21:12:31 AZKABAN kernel: ACPI: Reserving SSDT table memory at [mem 0x985da800-0x985dab58]
Aug 18 21:12:31 AZKABAN kernel: ACPI: Reserving BOOT table memory at [mem 0x985dab60-0x985dab87]
Aug 18 21:12:31 AZKABAN kernel: ACPI: Reserving SSDT table memory at [mem 0x985dab88-0x985dbe71]
Aug 18 21:12:31 AZKABAN kernel: ACPI: Reserving HPET table memory at [mem 0x985dbe78-0x985dbeaf]
Aug 18 21:12:31 AZKABAN kernel: ACPI: Reserving SSDT table memory at [mem 0x985dbeb0-0x985dc8e3]
Aug 18 21:12:31 AZKABAN kernel: ACPI: Reserving UEFI table memory at [mem 0x985dc8e8-0x985dc929]
Aug 18 21:12:31 AZKABAN kernel: ACPI: Reserving SSDT table memory at [mem 0x985dc930-0x985dd80d]
Aug 18 21:12:31 AZKABAN kernel: ACPI: Reserving LPIT table memory at [mem 0x985dd810-0x985dd8a3]
Aug 18 21:12:31 AZKABAN kernel: ACPI: Reserving WSMT table memory at [mem 0x985dd8a8-0x985dd8cf]
Aug 18 21:12:31 AZKABAN kernel: ACPI: Reserving SSDT table memory at [mem 0x985dd8d0-0x985ddb6e]
Aug 18 21:12:31 AZKABAN kernel: ACPI: Reserving SSDT table memory at [mem 0x985ddb70-0x985de9ae]
Aug 18 21:12:31 AZKABAN kernel: ACPI: Reserving DBGP table memory at [mem 0x985de9b0-0x985de9e3]
Aug 18 21:12:31 AZKABAN kernel: ACPI: Reserving DBG2 table memory at [mem 0x985de9e8-0x985dea48]
Aug 18 21:12:31 AZKABAN kernel: ACPI: Reserving SSDT table memory at [mem 0x985dea50-0x985e28f5]
Aug 18 21:12:31 AZKABAN kernel: ACPI: Reserving SLIC table memory at [mem 0x985e28f8-0x985e2a6d]
Aug 18 21:12:31 AZKABAN kernel: ACPI: Reserving SSDT table memory at [mem 0x985e2a70-0x985e3109]
Aug 18 21:12:31 AZKABAN kernel: ACPI: Reserving SSDT table memory at [mem 0x985e3110-0x985e3390]
Aug 18 21:12:31 AZKABAN kernel: ACPI: Reserving DMAR table memory at [mem 0x985e3398-0x985e3487]
Aug 18 21:12:31 AZKABAN kernel: ACPI: Reserving SSDT table memory at [mem 0x985e3488-0x985e43cd]
Aug 18 21:12:31 AZKABAN kernel: ACPI: Reserving BGRT table memory at [mem 0x985e43d0-0x985e4407]
Aug 18 21:12:31 AZKABAN kernel: ACPI: Local APIC address 0xfee00000
Aug 18 21:12:31 AZKABAN kernel: No NUMA configuration found
Aug 18 21:12:31 AZKABAN kernel: Faking a node at [mem 0x0000000000000000-0x000000025f7fffff]
Aug 18 21:12:31 AZKABAN kernel: NODE_DATA(0) allocated [mem 0x25f7fc000-0x25f7fffff]
Aug 18 21:12:31 AZKABAN kernel: Zone ranges:
Aug 18 21:12:31 AZKABAN kernel:   DMA      [mem 0x0000000000001000-0x0000000000ffffff]
Aug 18 21:12:31 AZKABAN kernel:   DMA32    [mem 0x0000000001000000-0x00000000ffffffff]
Aug 18 21:12:31 AZKABAN kernel:   Normal   [mem 0x0000000100000000-0x000000025f7fffff]
Aug 18 21:12:31 AZKABAN kernel:   Device   empty
Aug 18 21:12:31 AZKABAN kernel: Movable zone start for each node
Aug 18 21:12:31 AZKABAN kernel: Early memory node ranges
Aug 18 21:12:31 AZKABAN kernel:   node   0: [mem 0x0000000000001000-0x0000000000057fff]
Aug 18 21:12:31 AZKABAN kernel:   node   0: [mem 0x0000000000059000-0x000000000009efff]
Aug 18 21:12:31 AZKABAN kernel:   node   0: [mem 0x0000000000100000-0x000000009210ffff]
Aug 18 21:12:31 AZKABAN kernel:   node   0: [mem 0x0000000092112000-0x0000000098234fff]
Aug 18 21:12:31 AZKABAN kernel:   node   0: [mem 0x00000000995fe000-0x00000000995fefff]
Aug 18 21:12:31 AZKABAN kernel:   node   0: [mem 0x0000000100000000-0x000000025f7fffff]
Aug 18 21:12:31 AZKABAN kernel: Zeroed struct page in unavailable ranges: 34351 pages
Aug 18 21:12:31 AZKABAN kernel: Initmem setup node 0 [mem 0x0000000000001000-0x000000025f7fffff]
Aug 18 21:12:31 AZKABAN kernel: On node 0 totalpages: 2062801
Aug 18 21:12:31 AZKABAN kernel:   DMA zone: 64 pages used for memmap
Aug 18 21:12:31 AZKABAN kernel:   DMA zone: 26 pages reserved
Aug 18 21:12:31 AZKABAN kernel:   DMA zone: 3997 pages, LIFO batch:0