Has anyone noticed in the latest stable Firefox version, the menus have become tiner than before? (Not proton)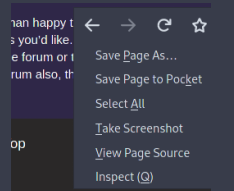 In my stable Firefox, the context (right-click) menu looks the same as before, I think. My menu is wider than yours, though, but the difference can be explained by wider items in my menu. I see "Inspect Accessibility Properties" (provided by Firefox Developer Tools) and a couple of add-on items with icons to the left of menu text.
Hmm. It seems to have magically stopped happening. Weird…
Opposite for me, over the previous handful of versions the padding around each menu entry has grown. Menu items are now far too spaced out.