You might have seen the new Firefox Color extension - this allows you to easily create a lightweight Firefox theme (colours and background).
I was messing around with it and thought - hey, why not make an EnOS theme? So, here's my first attempt: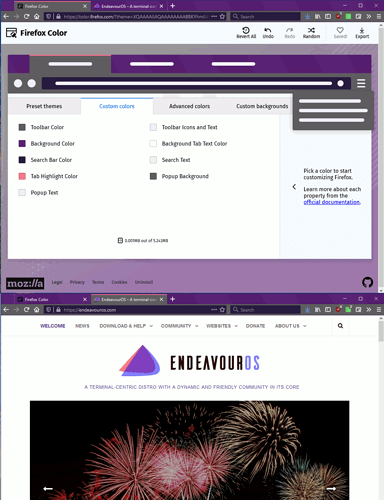 The other cool thing is you can load this directly with the following URL:
https://color.firefox.com/?theme=XQAAAAIiAQAAAAAAAABBKYhm849SCia2CaaEGccwS-xNKlhkIW4BxiVBswDIJ6IigzONO1fvVsgV98DuJ8EVxKz-YhI_-igzQ-XelC72wFHhJakyA7RKYtNI-mZrt698NPqFca4w-MSSUt2PzdDyia-zlgnWWQnLx-Mxake9Z_LAX4nZmnPOi78mtP0-HsqKwYTtEURHLiDAXhIX6UQE6U3zrw0xY3ouH0ofA3K3iNOQU8MECfX10VgwaGrR_LEPeJQmIW0XJheFjS_-Rf88ZxcA
So - what can the more artistically-aspiring community members come up with?