Every year or so I take a look over at Distrowatch, mostly so I can get a whiff of that nostalgic 90s Web 1.0 look.
As the top two battle it out, it's easy to say it's not official, but who cares


Over the past 6 months

has steadily notched upwards to within striking distance of its nemesis MX Linux.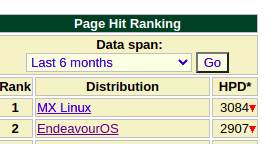 is now within 173 installs or reviews, or whatever, of the #1 top spot, and I still haven't tried MX Linux, as I thought how could a mail server be so popular, MX, get it.
Meanwhile Arch is languishing at #29 next to something forgettably called Q4OS. At least it's better than another Arch distro Archlabs sitting on the bottom at #100.
When will

take the Distrowatch crown? Who even cares?