Hey everybody,
I just checked Distrowatch and EndeavourOS is currently #100. I thought that was pretty cool.
Well, it is logical, as there was a post on it in the front page recently. If there is nothing for two weeks or so, EndeavourOS will go beyond mark 100. It is as simple as this.
I'm reading Distrowatch since 2010-2011 or so. I'm used to it, now
Going up.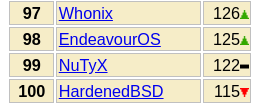 i stopped following distrowatch years ago - it says nothing about how popular a distro is. it only tells you how many have clicked on the specific distro. then of those maybe one or two actually download it. So for those who think distrowatch is an indicator on how pop a distro is - well that's just wrong. it just count clicks
That's absolutely true, it is a rough indicator, but nowadays people also come in through vloggers and bloggers links. (more than before.)
Yeah, the ranking is just a rough estimate, but I still go there for the latest news and updates.
As a matter of fact, that is how I found EndeavourOS.
The only true and interesting statistic is about how many distributions were indexed, are alive, sleeping or dead.
For September 23rd, 2019 weekly report:
DistroWatch database summary

* Number of all distributions in the database: 903
* Number of active distributions in the database: 288
* Number of dormant distributions: 50
* Number of discontinued distributions: 564
* Number of distributions on the waiting list: 153
* Number of distributions waiting for evaluation: 37

Since 2001, 900 projects were listed, only a third is still alive. It is clear that distribution world is a very dangerous one.
yeah for news and get informed on what's going on DW is great.
And only a handful are alive since 2001.

Distribution world isn't more dangerous than any other world out there, I think.
Well, for distributions born before 2001, I can list:
Debian GNU/Linux
RedHat
SuSE/OpenSuSE
Slackware
And that's nearly all. I think I miss 2 or 3 mores, but it is the core of the oldest living distribution in 2019.
you could have said 2002 so Arch could be included

Distrowatch was born in 2001, so…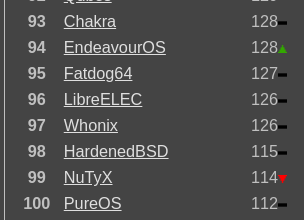 Yeah! In about what - a year or two - EndeavourOS will be number 1

that very optimistic. I actually think it's sad that archbased distros or debian based distros get more attention than the base distro they are built upon. Thee base distros should get more cred IMO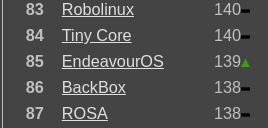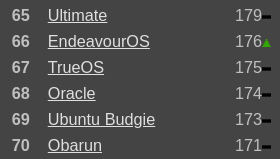 "Elevator going UP!"
And they didn't even update our info page on their site.
…yet.