Posting in #Newbie again as I'm unsure where to post this, and it's kinda sorta a continuation of my old post about touchpads, although the desktop now too runs EndeavourOS, it has replaced Chakra.
The thing is, the only difference I can think of between the two machines, besides them being completely different hardware, is that they were installed using different ISOs: the laptop was installed using 2020.09.20, the desktop with the latest 2021.04.17. Both are fully up-to-date, both have the same versions of KDE/Qt stuffz:
KDE Plasma Version: 5.22.0
KDE Frameworks Version: 5.82.0
Qt Version: 5.15.2
Kernel Version: 5.12.9-arch1-1 (64-bit)
Graphics Platform: X11

Now what has me completely stumped is the difference between the two, when I go to System Settings -> Input Devices -> Touchpad, best described with screenshots:
Laptop: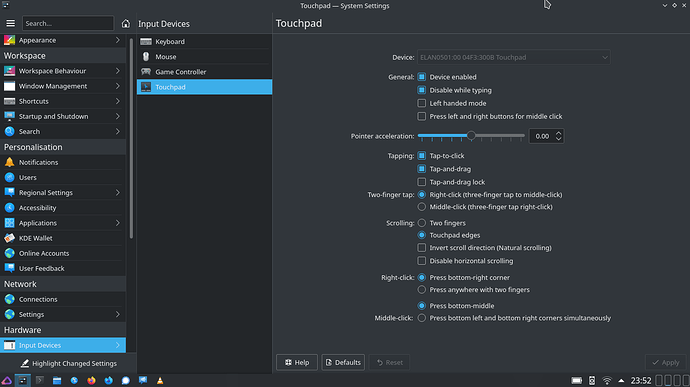 Desktop (obviously greyed out, as it doesn't have an actual touchpad):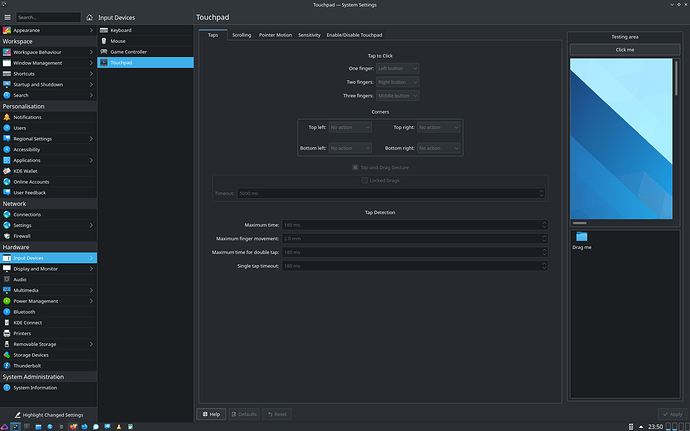 ---
Now, I'd LOVE to have the desktop's version on the laptop, so I can have it disable the touchpad automatically upon detecting my mouse being plugged in (and enabling automatically when the mouse is unplugged / switched off / no longer detected), but I'm also just dead curious as to where this difference comes from.
Is there a way to get the settings on the laptop like they are on the desktop (though obviously not greyed out, please) by way of installing a certain package I may be missing, or would I need to reinstall from the latest ISO?
Happy to provide logs, configs, all sorts of information, just not sure what would be needed.