Look guys, they even changed their website back to the first appearance: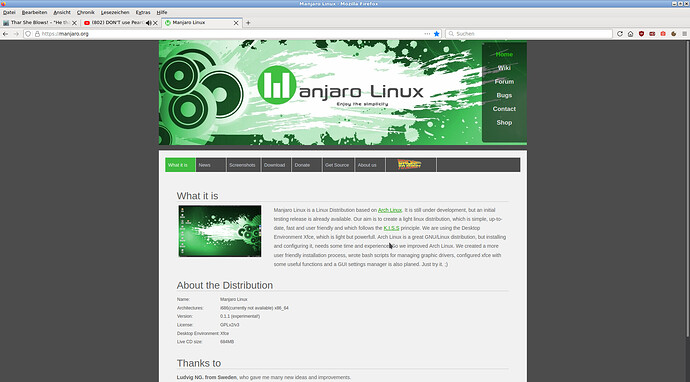 https://manjaro.org/
It's funny, their old design feels like an upgrade

Fits your ancient looking browser too…
Miss it, the way it used to be. Spent five years on Manjaro as my sole distro, then the horde arrived, and decided the forum needed to be razed to the ground so that the drive to monetization could occur in peace. I visit it once in a while, it now has the clinical feel they were looking for. Echo chamber achieved.
Same. I still have a lot of respect for the Manjaro ARM team, but I've lost all interest in Manjaro x86_64 and the forum (except for ARM).
Ah, have they gone back to advising their website visitors to set their hardware clocks back to 1970 as well?
Once you go EndeavourOS …you never go back!


Yes the ARM team is a different animal.
Yes, unfortunately … I feel the same way. I liked the idea to reduce Bleeding Edge a bit and thus reduce the maintenance effort, maybe also to bring in a bit more stability, but that seems to work only in theory. Unfortunately, the practice looks a bit different. Even I still look in from time to time, I will not delete my account there. I still wish all the best for the 10th anniversary and hope that EndeavourOS will also experience this anniversary!
Edit: However, I can also understand it if the whole thing goes a bit more in the direction of monetization. It can't hurt if the base is strengthened and becomes more independent (but there seem to be more and more other dependencies now…). In principle, I find a good financial basis for such a project quite helpful.
Hey, it's the latest FF 89.0.2!
Slightly customized to fit me like a glove.
Is it? I just went back to Manjaro 2 weeks ago. On my main machine and my travelling netbook. All the others are on Endeavour tho.
Don't we have the 2nd anniversary coming up on the 15th?
OK, we'll manage the rest then …
Well sometimes you have to have variety. I just pick different desktops.
Best of linux EndeavourOS
Cool? I'm impressed they still have the old look and that wasn't also lost in a server migration.
my first manjaro experience was in 2012 late augustus… they started round that period, but after that it became bit quiet… with the 0.8 release was it final to mainstream in august 2012…also the one as first with sysD before arch…but that was a time… roland the found was in that time 16 years, probably now 26… but is now focussing on its own company… pitty…

was a heck of a time.
@keybreak in the wilds?

Bad backups and all that