Hi
I was translating to Hindi.
The very last line of /usr/share/endeavouros/scripts/translation-en.bash reads
_tr_add2 after_install_pacdiff_tip "Manage pacnew, pacorig $_and pacsave files with pacdiff $_and"

The actual tooltip reads something different.


Notice that the tooltip pop up has the word "code" at end. That isn't mentioned in the translation file though.
I verified it on github, where the word "code" is indeed not mentioned in the translation file. So I am wondering how does the welcome app show it?
I have translated all strings. But the label on button shows in English only (the string was not in translations file). Also the tooltip has hindi text followed by the word 'code' which magically appears out of nowhere. See screenshot below.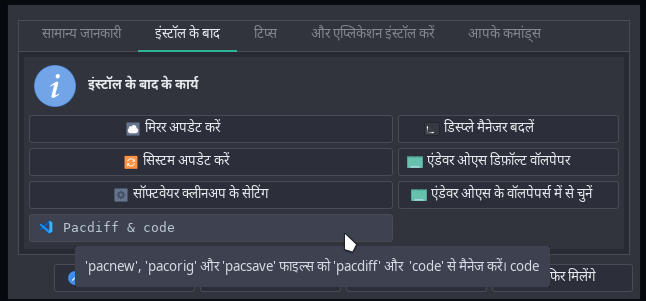 My guess is that these two things are hardcoded in the app, which if I'm understanding right, can be treated as a bug. No bug here. Its a form of super advance AI.
@manuel could you please look into this, or request someone else who must be knowing about it. I have completed the translation, and I'll wait for clarity on this bug before creating a pull request.
Thank You

Ps. There is no output in the terminal after launching Welcome app, so it is not seeing any 'errors'.