Hello everyone!
As the title says, i want to change some icons that can't change because the icon theme I'm using doesn't have the Endeavouros icons on it, so i created them. Thing is that I'm not sure how i can make it, i want to change their icons on the panel and on the plank dock.
The icons i want to change are these:
akm
Configure EOS Update Notifier
EndeavourOS log tool
Reflector Simple
UpdateInTerminal
Welcome
Here screenshots about what I'm referring to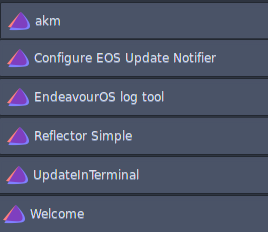 and here on the plank dock


And here the icons i made for my icons theme (btw, what do you think of them

?):


Please, if someone could guide me.
Thanks!